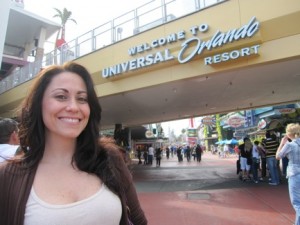 Orlando is hands down the capital of family fun. Every corner has some sort of attraction, deal, meal or steal. And it can be tough to eat healthy with all the theme park hubub to go around. And sure, that's all good every now and again (to feel like a kid) but I have to say, Orlando's got some damn good dining outside of the Mickey Mouse-sphere (although I'll get to some Orlando theme park finds next week)!
If you've only been to the attraction saturated parts of Orlando, do yourself a favor and head downtown. You'll get to see some beautifully historic neighborhoods, complete with original brick streets, cute shops and fine dining. One of those brick street neighborhood finds is Shine Neighborhood Kitchen. Literally in a residential neighborhood, this chic eatery boasts gourmet Italian with none of the pretense and yet all of the taste and ambiance. Surging with youthful locals, the bar is fun and the menu is even more so. Additionally, Shine is wonderful in accommodating special diets. I ordered up garlicky bruschetta along with a gnocchi primavera that was made from scratch and per my vegan specification. Yum all around and a must visit for anyone in the Orlando area.
Ethos Vegan Kitchen was definitely on my list to visit while in fun city. A great local with a park and lake view along with a delicious menu (even their Sunday brunch menu rocks!), Ethos impressed me.  The food was tasty, the feel of the joint is very new orleans-ish with its outdoor patio, artwork and dj. I loved the variety from their brunch to their pizzas, baked goods to their shepherd's pie. I'll absolutely be back next time!
Looking to fill up on some caffeine and need a snack to go with it? Try the Drunken Monkey! Hearkening back to the pre-Starbucks days, this hipster coffee spot boasts more then just lattes. Fabulous vegan desserts, as well as gluten free goodies, sandwiches, salads, soups and even some ethnic specialties, I loved the offerings as well as the chill vibe. Bring your laptop and sip on a cappuccino or order up a sandwich and play scrabble with your buddies, The Drunken Monkey has got something for everyone!
By now you know that I brake for treats while away from home and Raphsodic Bakery near downtown is the place to go for sweets. For cupcakes, cakes, brownies, pies and cookies, Raphsodic rules and additionally, they are very community aware. Promoting local artists as well as selling unique products by local vendors, this bakery is also a hot spot for hip, eco wares and delicious vegan goodies!
Ok, downtown Orlando has tons to offer in the way of good dining but I know you're waiting to hear about what's going on at the parks. Well lucky for you, that comes next week!
Related posts: