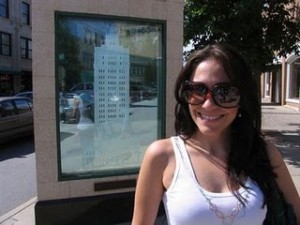 Here I am again, yappin' about Asheville, NC ; ) There is just to much good food to not tell you about!! So make sure you keep this info handy if you're ever passin' through or passin' time in this healthy, mountainous munch fest of a town!
If you want to catch dinner and a movie, Asheville Pizza and Brewing Company is the spot. And I don't mean, dine and dash to the theatre. I mean dine and eat IN the theatre! This kitschy theatre turned brew and chow house is a fun spot for kids and adults alike. Come order a veggie pizza, healthy sandwich or whatever you fancy while dining at a table in front of the silver screen. Really a great place to hang out and get some fun food with your flick! Find out more at the Asheville Pizza and Brewing Company site.
Burgermeisters is a cool eatery in West Asheville that caters to omnivores and lettuce eaters alike. My buddies and I all dined happily at this joint while taking in the cool decor. I devoured my grilled tofu philly sandwich and salad. I was delighted to see that they hand cut their own potatoes for fries and mix sweet potatoes in with russets – yum! Their chips are also home made among a variety of other delicious menu items. No one will leave Burgermeisters hungry, just happy!
If you are vegetarian or vegan, The Laughing Seed Cafe is a must. One of Asheville's premiere veg dining establishments, The Laughing Seed deserves its kudos. From great appetizers to their great Sunday Brunch, it's tough to find something on the menu that you won't like, especially with their international menu. As soon as I saw the Cuban Sandwich (i veganized with by ordering it without the cheese), I looked no more – Yummm-o!
I was stoked to find a veggie, late night menu at Rosetta's Kitchen. A late night, veggie, soul food menu to boot! Open till 3 am on weekends, what a great alternative after a fun night out then a greasy spoon diner. I had to go for the corn bread (duh, it's the south), some mac & cheese and a steaming bowl of veggies and greens. The whole menu was calling my name so I will be back for sure!!!
Man oh man, the south took care of my vegan belly and there's more coming so stay tuned!!
Related posts: