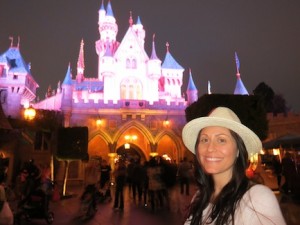 Who doesn't love visitng the happiest place on earth? Well, I would imagine folks on special diets have some trouble at theme parks however, I've scoured both Disneyland and California Adventure and found some pretty fabulous options for vegans, gluten free diners and even health counscious park goers. Be you a kid or an adult, you can have the full magical experience with none of the food worries!  Here is what I found on my last visit to the Anaheim parks:
California Adventure – Cars Land – Flo's V8 Diner – Veggie tater bake made with soy crumbles (vegans, order it sans cheese)
California Adventure – Starbuck's – Soy milk beverages
California Adventure – Carthay Circle – Veggie risotto
California Adventure – Cocina Cucamonga – Veggie burritos and salads
California Adventure – Fairfax Market – fresh juices and healthy snacks like hummus and raw veggies
California Adventure – Lucky Fortune Cookery – Veggie rice bowls
California Adventure – Paradise Garden Grill – Tofu skewars, Mediterranean plates and salads
Disneyland – Blue Bayou – Portobello Risotto
Disneyland – Near Pirate's of the Caribbean – Veggie Gumbo
Disneyland – Across from the Hanuted Mansion – Veggie Chili
Disneyland – Bengal BBQ – Veggie skewers
Disneyland – Jolly Holiday Cafe – Grilled veggie and mushroom salad with whole grains and soy milk for coffee
Disneyland – Tropical Imports – fresh juices and healthy snacks like hummus and raw veggies
Disneyland – Rancho del Zocalo – Veggie burritos and salads
To check out other Disneyland and California Adventure options, check out my theme park round up post! You can also check out options at the Orlando area parks here:
Additionally, if you really want to plan your worry-free day at Epcot, make your dining reservations ahead of time and let guest services know of any special diet requests so they can accommodate you accordingly. Contact Disney's Dining Reservation Center at (714) 781-DINE (3463) to speak with a Cast Member to make your special requests and reservations.
For mroe information, visit www.HealthyVoyager.com
Related posts: