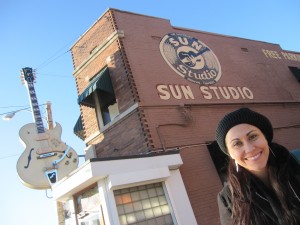 With so many incredible historic locations and delicious places to dine on vegan, gluten free and overall healthy food, I just had to return for a second post. Whether you're checkin' out the famed Beale Street or walking through the legendary Sun Studio, there is so much tasty food in and around the music city on the Mississippi River that you gotta make time for some awesome eatin'!
If indeed you are looking for a unique and memorable Memphis and delta area adventure, you may want to look into American Dream Safari Tours. Customized tours of Memphis and surrounding areas, curated and chauffeured by the one and only Tad Pierson. One of the coolest cats you'll ever meet, Tad drives you around in style, in a pink '55 Cadillac. Taking you to the most touristy to way off the beaten path, American dream Safari is the best way to soak in the city from its most popular sites to the most secret juke joints and everything in between.
One of the cutest places I had the good fortune to stumble upon is the Trolley Stop Market. Just a stone's throw away from Sun Studio, the market is a kitchy market style eatery, bakery and bar that showcases local, organic and seasonal food as well as arts and crafts from local artisans. The menu is full of fresh daily offerings and even feature some of the owners' own vegetables from their own farm. With a ton of great vegan offerings (they even have "Vegan Night" once a week), the sides, sandwiches and salads are delish. But what knocked my socks off was their vegan pizzas! Whoa Nelly, fantastic crust, delicious sauce and fresh veggies topped with a light sprinkling of vegan cheese that compliments all the ingredients makes for 1 of my all time favorite pizzas. oh so good!
A fun place off the beaten path is Three Angels Diner. Very vegan friendly, brunch, lunch or dinner, you can find a dish you'll love. I popped in for brunch and went to town on my biscuits and gravy along with a nice helping of tofu scramble. Bring your friends, enjoy the local art and bring your appetite on over to Three Angels!
I've always loved the idea of cute diners or bakeries located inside of an old timey gas station. Fuel Cafe is just that kind of place! Obviously fuel is a great name for restaurant in an old gas station but it has a double meaning as the food is fresh, local, seasonal and healthy. Lots of vegan options as well as a number of local and organic dishes, this cute place doesn't skimp on taste. With one of the first food trucks in Memphis, Fuel is cornering the market of healthy eats both at a great brick and mortar locations as well as mobile. A Fuel must: Vegan tacos or shall I say Gorditas! OMG, 2 corn tortillas held together by delicious melted vegan cheese, stuffed with fresh pico de gallo, guacamole and homemade vegan taco meat. So yum but don't miss their chili, vegan dips and so much more!
Now if you have a hankering for some authentic Italian, you may want to saunter over to PaPa Pia's on Union. Just a quick walk from the famous Peabody Hotel, Papa has some nice Italian fare. I was delighted with their gnocchi primavera as it was so tasty and light, bursting with flavor, I didn't have to douse my dish in marinara sauce to give it oomph. Very accommodating to special diets, it's a great rustic place in the heart of downtown Memphis.
I had so much fun in Memphis, met some wonderful people ( like Tad Pierson, Chef Timothy, Chef Gary of Dejavu, Bianca Phillips of Vegan Crunk & Justin Fox Burks of The Chubby Vegetarian!) and can wait to see the healthy and vegan options grow in this bluesy, rock n' roll town!
Related posts: