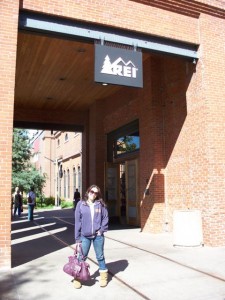 Why REI you ask? Well, it's the original and flagship store located in downtown Denver. Denver is a youthful town dominated by outdoorsy activities and sports town pride. On my last visit to Denver, I hit up some pretty fantastic joints and I'm happy to report that I discovered a few more gems in the Mile High City!
My first evening was spent at hipster locale, Root Down. I LOVED everything about this place.  Obviously a re-furbished mechanic or tire ship, Root Down uses it's neat foundation to its advantage. The bar area has both indoor and outdoor seating while the dining room has  a main area as well as a creatively decorated smaller (and more romantic) room. But while the scene is cool, the food is incredible. And not only is it incredible, it's locally sourced, mainly organic and home made AND they have a ton of vegan and gluten free options! I began with sweet potato falafel that came with a delicious cucumber salsa. I chose the veggie burger sliders and I have to say that these zesty home made patties make my top 5 vegan burgers of all time. Dessert did not disappoint either as there was a delicious vegan option, fruit cobbler with home made vegan ice cream. You can really get your healthy grub on at Root Down!
One thing I adore about Denver is that you find small businesses within residential areas. From boutiques to coffee shops, each neighborhood has a style all their own. In Washington Park, you will find La Belle Rosette, a neighborhood coffee shop that accommodates all special diets. I'd pop in for my morning soy latte and pick up a vegan, gluten free breakfast bar.  I was delighted to see how many edible options there were outside of just a soy latte. Home made baked goods from La Belle or neighboring bakeries, this quaint coffee shop reminds you of how things once were with a new twist.
A few steps away from La Belle coffee shop is Vert Kitchen. 100% organic and locally grown produce and everything handmade in house, Vert is another great find. A menu based on French techniques, diners can't deny the freshness of the flavors and the creativity of the dishes. Wonderfully accommodating to vegans, vegetarians and gluten free folks, Vert Kitchen is the perfect spot for a healthy lunch.
Even if you're in town for a short time, be sure to visit Washington Park Chiropractic. With wellness and patient care at the top of their list, Wash Park Chiro not only offers top notch chiropractic care for adults as well as children, but they also offer massage. The best part is that they offer pregnancy chiro as well as one of the best pregnancy massages in the greater Denver area. Boasting a state of the art pregnancy massage table, an informative health blog and practicing cutting edge therapies such as the Graston and Webster techniques, Dr. Lisa Goodman and her friendly staff go above and beyond the quick crack!
Well, that's my newest wrap up of Denver and I'm sure there will be plenty more to report back on after my next visit!
Related posts: