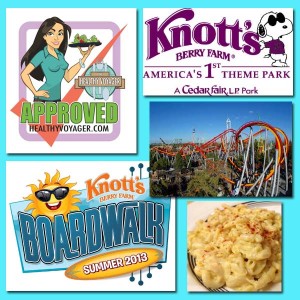 Ever go to a theme park and wish you could eat that mouthwatering funnel cake but you're gluten free? Doesn't that cheeseburger sound enticing but you can't or don't eat cheese? Are you a vegetarian or a vegan who can't eat anything when enjoying a day at the amusement park? Well, do I have an announcement for you!
This summer, Knotts Berry Farm, America's 1st theme park, will soon be the first of its kind to offer fully gluten free, vegan and diabetic friendly options throughout the park. And I'm excited to be the driving force in creating the new items around the park that will be rolled out all summer long at both Knotts Berry Farm and its water park, Soak City!
Soon, park goers will be able to enjoy vegan, gluten free and soy free baked mac n' cheese, vegan and gluten free pizza, vegan "buttermilk" battered "chicken" tenders and tofu scramble for brunch, just to name a few. Along with vegan and gluten free friendly burgers, hot dogs, salads, and yes, their popular funnel cakes, special diet theme park enthusiasts will not only be able to enjoy the rides, but also the plethora of food options, both savory and sweet (did someone say vegan and gluten free funnel cakes topped with vegan whipped cream?)
Knotts Berry Farm is already serving some of the items and will continue to roll out more this summer. Be sure to ask for more details when visiting the park as an official launch will be coming up later in the season.
So if you're looking to have fun at a theme park as well as enjoy some fun vegan and special diet goodies, Knotts is the place to be!
More information to come at Knotts.com as well as at www.HealthyVoyager.com! Stay tuned!
Related posts: