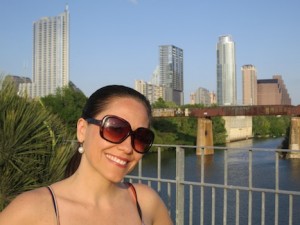 Since Austin has so many great places to find healthy, vegan, gluten free and other tasty special diet eats, I thought I'd come back for round 2! Such a great Texas city that combines the hip and cool with great southern charm, check out some other fantastic places to visit when in Austin!
I'll begin with an Austin staple. An eatery that serves breakfast 24 hours a day and caters to veg heads, gluten free foodies and more. With 5 locations across town, Kerbey Lane Cafe is the place to go for breakfast, lunch, dinner or that oh so mandatory after partying meal at 3 or 4am! Normally, veggies opt for a lame salad or toast at n all night diner but not at Kerbey Lane. Feast on vegan queso, vegan pancake stacks for days or my personal fave, the vegan breakfast platter. Sandwiches, salads and entrees and sweet treats also include us finicky foodies wit dishes like the hippy burger, enchiladas and a daily vegan dessert (I had an insane strawberry lemonade cake!) So no matter the time of day, Kerbey Lane Cafe is your safe haven for awesome veggie comfort food in a hip and cool establishment!
On the opposite end of the spectrum you will find the serene and spiritual Casa de Luz. Located at the center for integral studies and the former home of the Natural Epicurean Culinary School, Casa is a beautiful and peaceful destination for foodies looking for a super healthy, balanced, macrobiotic meal. Serving breakfast through dinner, Casa is like no other restaurant. For a flat rate, customers are served a square macrobiotic meal of soup, salad, tea and a nutritious vegan and gluten free entree. The meal is the chef's choice, the restaurant tables are set up community style and the outdoor patio overlooks the playground for the on grounds montessori.  If you're looking to get away from the hustle and bustle of town and really enjoy a meal that heals and nourishes, this is the place for you!
A mega cool brewery with an even more mega cool concept is Black Star Co-Op. An eco-conscious and veg-friendly brewery, this hip watering hole is also a fully functioning cooperative. Meaning that the employees all own a piece of the pie as opposed to being "employees". Additionally, customers can become members who can also own a piece of the pie, vote on policy changes and even be on the board. The co-op is fresh, the menu delicious and the beer variety vast. WHo woukdn't want to be a part of the biz and keep it running in tip top shape. But now, the food and drink! Drink, lots of gluten free beers, woohoo!! Food, tons of killer vegan fare like the portobello and chips, seasonal grilled veggie sandwich on gluten free bread and veggie chili. Big thumbs up for this forward thinking gastropub!
No trip is complete without finding a local vegan pizza option. Conan's Pizza, a legend in Austin, does deep dish vegan like nobody's business. With lots of vegan toppings to choose from, oozy Daiya cheese (vegan and gluten free) and a to die for crust, this pizza parlor will send you back to your childhood. I could imagine filing in their with my friends after a raging roller skating session, talking about Ricky Schroeder and downing slice after slice without a care in the world. The classic Conan The Barbarian artwork along with the fun rock and 80′s memorabilia dishes up nostalgia along with their signature aromatic pizza pies. A must visit when hankerin' for classic deep dish pizza!
One of the many things that made me fall in love with Austin are the mixed commercial use neighborhoods. Meaning that a coffee shop could move in right next door to your house. Bouldin Creek Cafe is just one of those awesome places. With the feel of home and a keen awareness of the surrounding neighborhood, this coffeehouse is rife with local art, eco love and yummy vegetarian and vegan food for all. I was told to tyr their vegan breakfast tacos and I'm so glad I listened. They rock as did their fair trade organic coffee. I love the vibe, I love the menu and I dig it's open arms feeling to the community it services.
Related posts: