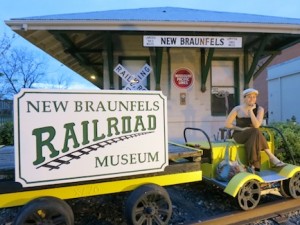 Last time I was in Texas, I got the chance to do a tiny bit of road tripping and I stumbled upon New Braunfels. Just outside of San Antonio in Texas Hill Country, this quaint town was settled by German immigrants in the mid-1800′s. With some real American history that can still be seen in parts of downtown, New Braunfels is best known for being the home of Schlitterbahn, a killer water park complete with water roller coaster! But the best part is that amongst the water flumes and ghosts of America's past, you'll find some delicious and nutritious grub!
I'll start with dessert! 2tarts Bakery is a hip bakery that offers up tasty treats for all sorts of special diet sweet toothers. Conventional baked goods along with vegan and gluten free offerings, 2tarts is a great place to get your sweet on and hang with friends. I love that they are open late, are in the heart of downtown and rock dessert like nobodies business! They even do catering and weddings! I had the good fortune of stumbling upon them and devouring a giant vegan chocolate peanut butter cup! Yumm!! Be sure to stop in and say hi to the baking sisters of 2tarts for a treat.
A really cool place, not far from 2tarts, is Liberty Bistro. Located in the basement of the old city hall building, this all American bistro serves up some neat dishes in a unique setting. Sit in an old vault while sipping wine or in the main dining room while checking out the old photos and don't forget to delve into their menu. Lots of healthy salads and easily veganizable dishes, it's a neat environment for a meal. I had a tasty pats with an even more tasty salad and then asked around about ghost stories! And yeah, I got an earful!
If you're looking for a drink, some more history and some great food, The Phoenix Saloon is your place. Not only is the Phoenix the birthplace of chili, oh yeah, it's been serving up drinks since 1871. The bar was the first in Texas to serve women and even had an alligator pit for unruly customers. While it graciously serves all kinds of people and unruly customers just get kicked out onto the sidewalk now, the Phoenix has great veggie options. Veggie chili (of course), veggie burgers and fun sides, this historic gastropub is a must visit!
On the lighter side, you'll find Naturally. A fresh juice bar and bakery, you can grab a sandwich, salad or even a healthy kids meal there too. Lots of healthy options along with vegan and gluten free, Naturally is the perfect place for a light and quick meal or snack.
My time in New Braunfels may have been quick but the experience will last forever. I'm a sucker for history and it's even better when wrapped in awesome food! Stop in for Schlitterbahn and stay for some food and spirits!!
Related posts: