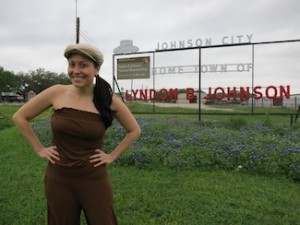 Johnson City, Texas. Just an hour or so northwest of San Antonio, located in the beautiful rolling hill country, this is the small town that president Lyndon Baines Johnson grew up in. Being a history geek, along with my hubby, we took a day trip up to see LBJ's boyhood home as well as to see the sprawling acreage at his Texas White House about 20 minutes west of there.
A peaceful area, Johnson City boasts a population of 1,200 people. Yes, you read that correctly. So what was I able to find in this little Texas town you ask? Plenty!
If you're either making the pilgrimage out to check out some American history or just passing through Hill Country, rest assured that there are some veggie options available in good ol' JC!
The first is at the Silver K Cafe. Super cute and part of what was an old lumber yard, this cafe is an all American gem. Easily veganizable salads and sandwiches, it's the perfect place to stop for lunch or grab and go to eat on the road. I loved my fresh focaccia grilled vegetable sandwich and was delighted at the variety of seasonal veggies that they packed it full with. It's small town America with a progressive and delicious menu!
If it's an ice cold local beer you're looking for, check out Pecan Street Brewing Company located in the town square. Grab your draft and order up a cheeseless pizza, salad or be naughty with some sweet potato fries. A hip brewery that overlooks the historic town square makes for a neat evening treat!
Pizza is always welcome after a day of sightseeing, especially when traveling with a group of buddies or family. AJ's Pizza Shoppe is just the place what with their awesome outdoor stage and giant menu of toppings to make the veggiest pizza ever. AND they offer gluten free crust! Order up a big cheeseless pie, load on the veggie toppings and enjoy your slice under the stars while listening to some local jams. Ah, that's Texas!
Johnson City is a great little town somewhat frozen in time. But as I just proved, no matter where you might be, metropolitan or not, The Healthy Voyager can always find vegan, gluten free and healthy eats!
Related posts: