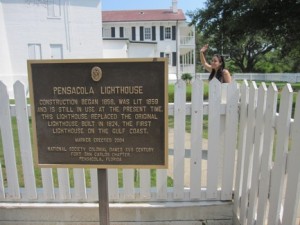 And we're back for some more here in Escambia County, Florida. Namely, Pensacola ; ) Filled with history (did you know that it really is the oldest colony in the U.S.?) and lots of beautiful waterfront views, this city by the gulf has lots to offer healthy, hungry tourists!
Before we get in to the yummy hot spots, let me tell you about some of the fun the fun sightseeing city tours. As mentioned, Pensacola is entrenched in early American history what with old forts, Andrew Jackson's capture of the gulf town, home to a large Navy base and air station as well as all sorts of old U.S. goings on. Guided tours of the 1859 lighthouse or even scary ghost tours are fabulous as they keep you walking, active and totally spooked!
In old Seville square in a quaint locale overlooking the park, you'll find Dharma Blue. An upscale eatery, there is no shortage of delicious food for the healthy diner. I chose the vegetarian paella and was mighty pleased.  Be sure to let your server know about any dietary issues you may have and they will be more then happy to accommodate. Perfect for a romantic meal that can be followed by a stroll around the park!
If your lookin' for grub and grog, head over to Hopjack's. In the heart of hoppin' downtown, this young (and loud!) brew spot boats some mighty fine pizza too. Easily veganizable as well as offering tasty appetizers like sun dried tomato hummus, this might be a good spot to start off your weekend with a good meal and brew before heading over to the next club!
In a residential neighborhood in the south, you'll find lots of hometown bbq spots. Well Porchetta's might be that spot but it's a bit different. With a variety of unique sandwiches for carnivores, I delighted to find the "Veg-anini" 0n the menu. Sans sauce and cheese, the sweet owner subbed it out with olive oil and balsamic and my veggie 'wich was grilled to perfection. A sweet woman with a cute place where anyne can dine and leave happy.
Wanna get spooked? Try Ozone Pizza in the old (and haunted) Sacred Heart Hospital. Shut down in the 60′s as the hospital moved to its new location, the turn of the century fortress now houses artist lofts and other businesses along with the fun pizzeria in the old kitchen basement.  Happy to veganize any pizza, Ozone has great specials and a cool vibe despite its creepy locale.
And if you need to curb your sweet tooth, visit Oh Snap Cupcakes. With vegan as well as gluten free options, be sure to load up your picnic basket with a variety of flavors and enjoy them seaside! Light, sweet and delish, you can't pick just one!
Don't forget when visiting the panhandle to tour this historic town and come hungry as there's lots to choose from!
Related posts: