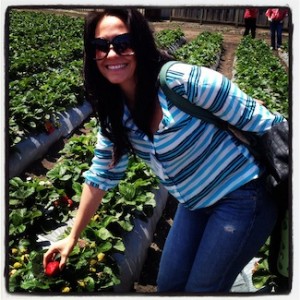 Located near the majestic Monterrey Bay, you'll find Aptos. A great little seaside town, sandwiched by beautiful beaches and pine lined mountains, Aptos is a close home to many agricultural farms and businesses.
The wonderful folks of Driscoll's invited me up to Aptos for a fun-filled yet educational adventure. While having always been a fan of Driscoll's incredible berries, I fell more in love with the product, company and brand after my 3 fun-filled days with them. I learned a great deal of what goes into getting my berry from farm to fork and I'll tell you, it's a long, painstaking process with so many people involved that I now have an even greater appreciation for where my food comes from. I'll tell you, it's a lot more than just planting a seed on a field, watching it grow and harvesting. Soooo much more!
As part of the Driscoll's University experience, I got to meet, spend time with and dine with many folks from the Driscoll's family along with some fabulous dieticians and chefs from around the country.  We ate a ton of strawberries, blueberries and raspberries, while touring the farms and facilities and getting an insider look on the produce industry.
Being in town for a few days, I got to dine at a few places that were super accommodating to this fruit eating vegan ; ) The first was Seascape Foods, a market and deli just across the road from my hotel. This neighborhood market stocks all sort of healthy, natural and organic products, boating a juice bar, coffee bar and deli. The selections at the market are great, perfect for a beach picnic or to pick up food for some healthy in-room cooking. I grabbed a vegan tofu pesto sandwich and a green juice at the deli and it was a tough decision as they had a bunch of clearly marked vegan options. Way cool!
One evening, we had the pleasure of dining at Bittersweet Bistro. Great local, seasonal ingredients in an American Bistro Cuisine setting. They had a number of delicious options, such as a savory mushroom risotto for me. Yum! Great for wining and dining, any night of the week!
Also close to my accommodations, located in the Seascape Village Shops, is Palapas Mexican Restaurant. With a dedicated vegetarian menu that is easily veganizable, this was a hit for me. When in doubt, a healthified tostada salad or a vegan enchilada works for me every time! And maybe a margarita, haha!
Finally, Seascape Resort is home to Sanderlings. This beachfront resort is a nice, peaceful getaway spot with its own beach, pools, jacuzzis and comfortable suites complete with kitchens and dining rooms! I felt like I was on a spa getaway every time I got to my room and walked the grounds. Sanderlings is fabulous at helping out their special diet guests as well as offering fun things like beach bonfires with s'mores (call ahead to make sure they have vegan offerings). It's great for couples as well as families as a retreat from the grind!
I had a blast at Driscoll's University and am looking forward to sharing some fun recipes, featuring Driscoll's organic berries, with you soon!
For more information, visit www.HealthyVoyager.com
Related posts: