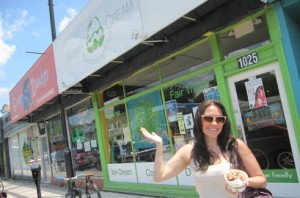 And we're back!  Gainesville had so much deliciousness to offer that we had to come up with round 2! So if you're on a road trip, taking a tour of Florida or taking a guided tour of the local colleges for future enrollment, you gotta make it a point to dine at one or more of these yummeries!
One thing I miss living in California is fabulous Cuban food. Of course, being from Miami, i get my fill at least once a year. Popping into Flaco's Cuban Bakery was an extra special treat! And that's because I got to eat more then my usual black beans, rice and plantains! They've got tempeh pastelitos, empanadas, veggie and vegan sandwiches like the sunshine sandwich which is like a vegan cuban sandwich made with tempeh (hold the cheese), salads and lots of delicious, traditional Cuban sides. If you're a fiend for Cuban food like I am, then Flaco's is a must!
Now I take you to a part of town I like to called the veg-friendly mile. West University Avenue is chock full of restaurants with many of them offering awesome veggie options. It's so easy to find and so hard to make a decision on where to chow down!
If you're lookin' for that college vibe, look no further then Gator Dawgs. A ginormous variety of burgers, hot dogs and sandwiches with all sorts of toppings along with a good selection for veg heads ; ) Pretty much any dog or burger can be vegified so be sure you come in with an appetite! Oh, and save room for tater tots!
Right next door to the dawgs, you'll find Karma Cream. And I have to say that it's one of my favorite ice cream shops in the country as they have a TON of vegan ice creams and topping options.  Additionally, all of their flavors are super unique and the whole establishment is eco-friendly and supports fair trade. They also have a great veg menu with sandwiches, salads and snacks along with tasty, all vegan baked goods. I went a little crazy and ordered up a huge vegan cookie dough ice cream sundae complete with hot fudge and vegan whipped cream! Heaven!!
Mediterranean food is always a great option for health conscious and veggie travelers. And Gyro Plus is no exception. A few doors down from Karma and dawgs, this Greek spot has a giant menu and a majority of it is veg-friendly. Fresh, full of flavor and lots of options, you can't go wrong here! My fave, the Veggie Kibbi Sandwich! (it has mashed potatoes in it!!)
Lastly but not leastly on Gainesville's veg-friendly mile is Leonardo's 706. With a proper restaurant, a pizzeria by the slice spot and a bistro, you've got 3 options for deliciousness. At the 706 location, a sit down eatery, the menu offers up plenty of goodies for all sorts of diners. For me, and folks like me, they even have tofu and vegan options like spicy black bean soup and a whole host of veganizable pizzas. Using all locally sourced ingredients, this eatery also boasts live jazz and cocktails ; ) Bistro 1245 is more of a wine bar with gourmet dishes but again, they don't disappoint in the special diet category like their spicy tofu stir fry! And their pizza by the slice location has vegan pies and slices available all day long!
So that's a wrap for this trip to Gainesville but there are plenty more places I missed. I can't wait to come back with an empty stomach and tell you more about Gainesville goodies!
Related posts: