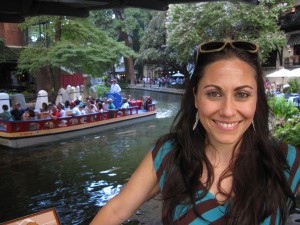 We crammed so much in during our Race to the Alamotrip to San Antonio that I had to post another article on all the great places to dine while in this awesome Texas town!
I must give big props to Hotel Contessa, for having great veggie options for breakfast as well as at their restaurant. Every morning, I dined on cereal or oatmeal with soy milk, fresh oj and fruit. At the bar, I ordered a delicious Spanish chick pea appetizer that staved off my hunger and put a smile on my face. The hotel was beautiful, right on the Riverwalk and their rooftop pool took the cake!
On our welcome night, we had a great meal at The Vault. A special events banquet hall owned by Boudros, this old bank was neat to dine inside of and yummy to eat at. Fresh guacamole, prickly pear margarita's and a portobello steak set the tone for the rest of the week. Mouthwateringly awesome!
One our first race day, we were taken to eat Mexican street food at La Gloria Ice House, located in the Pearl. Bustling with excitement, Chef Johnny knocks his gourmet version of street food out of the park. Everything that comes to your table is fresh and tasty. And he treated me like a VIP by piling up a ton of veganized options like his giant tostada, Mexican pizza and more! It's a hip location and the food is ever hipper!
The next day we ate southwestern fare as a group at Z'Tejas in the Shops at La Cantera. The menu is vast and full of choices for vegheads. I loved my chopped salad as it was overflowing with pumpkin seeds, beans, lettuce, tomato, avocado and a killer sesame dressing! They hooked it up and I gobbled it up!
On our last race day, we were treated to lunch at Mi Tierra. Established in 1941 and famed for it's authentic Mexican food and decor, the mural of famous Mexican Americans is a fun pass time to check out while waiting for your food. Complete with mariachis, Mi Tierra was more then happy to accommodate me, serving up a fabulous veggie enchilada full of fresh veggies, black beans, avocado and ranchero sauce. Mmmmmm!
For our last meal as a group, we dined at Achiote in The Grand Hyatt on the Riverwalk. I was stoked with the meal that the chef prepared especially for me! We started with a butter lettuce, avocado and tomato salad with a ginger soy dressing. It was then followed by the main entree, tofu, noodles and veggies in a light vegan stroganoff sauce. And for dessert, mango sorbet and a soy latte. My big compliments to the chef who knows that there is more to vegan cooking then veggies and rice!
Related posts: