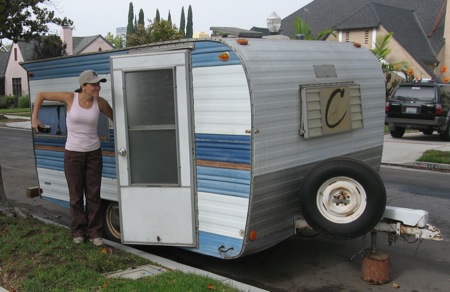 So last summer I wrote about Conscious Camping, health and eco tips so that you can get the most out of your adventure without getting sick or leaving a ginormo carbon footprint. Be sure to check out that post for additional info after you've gone through this summer's checklist ; )
I thought since I covered a fair amount of healthy and eco tips, this time around I'd mention some great products to use on your next outdoor adventure as well as ways to keep it cheap! So here we go!:
Goodies
To-GoWare – Camping or not, this product line is perfect for all forms of travel so you can eat on the run without using disposable junk. A must for healthy & eco voyagers!
Organic Anti-Bug Balm – Smells good, feels good, keeps the bugs away AND has no harsh chemicals like DEET!
Vegan, chemical free sunscreen – There are a few lines that carry vegan sunscreen but I'm partial to Kiss My Face products. Good Stuff!

Seattle Sports PVC-Free Solar Shower – Nothing feels better then an outdoor shower and what tops that is a chemical free one!
Everlite Solar Lamps – Save $$ and the planet by doing away with battery powered items as much as possible. Light your nights via the sun with lights and headlamps by Everlite.
Burt's Bees All-in-One Wash – This is great for any travel! All-in-one means traveling light ; )
Natural First Aid Kit – Recycled materials case with everything you need (all natural products) in case of an emergency.

Eco Toilet – When nature calls, it's convenient & green!
Survival Kit – No excuses, this thing holds a ton of lifesaving stuff so keep one with you at all times!
Keeping it on the cheap
Stock up on lightly used items – Nothing is greener then recycling and reusing. Hit up yard sales, thrift stores and craigslist for camping gear. You may be able to find almost brand new stuff for a fraction of the cost. Being green and saving green ; ) If camping with a family, look for a size up in tents (ex. a family of 4? look for one that sleeps 6) You'll appreciate the space and when buying used, you'll pay way less then a smaller sized one retail.
Sleeping Pads – Great to invest in for extra warmth and comfort. Keep your eyes peeled for used pads because it's cheaper then an air mattress ; )
Tent it or Trailer it – Tents take up no space at all in the car so packing your temporary abode is way cheap. Trailers are great because, depending on the size, a mid sized car can tow it while having ready made shelter for a few campers. Pulling into a campground, tents and trailers are the cheapest spots to rent. With a family, it's less of a headache to pull in and be all set for fun with a trailer. Plus, it keeps out a lot of the heat and sound so you can sleep more comfortably which means healthily!
Pack sandwiches and snacks at home – If you know how many days you'll be gone, make enough sandwiches and sides to last the trip. Wrap them reusable lunch wraps or glass containers and keep in your cooler to save your time and money. As soon as you start buying convenience snacks, you're contributing to more and fill waste and more often then not, consuming junk food that's full of preservatives. PB&J, hummus & cucumber as well as veggie wraps hold up well in glass containers as do potato salad, macaroni salad, quinoa salads and more. Plan ahead and you'll be sure to save money and time on your trip.
Take advantage of campsite amenities – especially when traveling with a family, day to day activities can add up. Do your homework and look for campsites that have lots of on site goodies like hiking, swimming, night time events, etc. For the cost of $20-$50 per night, you get 24 hours of fun and comfort for the whole family.
There's still some time for camping trips before the kiddies head back to school and the cold weather rolls in so get out there and enjoy the great outdoors!
For more information, visit www.healthyvoyager.com

Related posts: