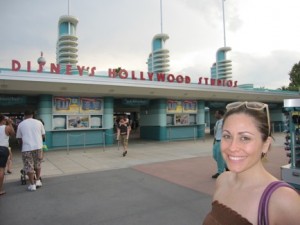 If you're setting out on a summer tour of Florida and thinking about some of the Orlando theme parks, Walt Disney World Resort has got you covered if you or anyone in your vacationing group follows a special diet.I love Disney's Hollywood Studios(despite living in LA and being around the real thing) as it's a magical look into old time as well as new cinema history!
Before hoppin' onto the Great Movie Ride, grab a sandwich at Starring Rolls Cafe! Or if you're looking for something a little more "sit down and get out of the heat", go fro The Hollywood Brown Derby. Here you'll find a bit pricier menu items but you can dine with a Disney character, and imagineer or just have a delicious meal with your park hopping buddies. High on the yummalicious scale is the Noodle bowl with Coconut Tofu and Veggies in a red curry broth!
For the fearless flyers, you must get in line for the Tower of Terror or Aerosmith's Rock n' Roller Coaster! But don't eat right before you get on or you'll lose your lunch! However, close by, you can dine at Fairfax Fare (a cute facsimile of LA's famed Farmer's Market) and pick up a veggie burger or even relax at Hollywood and Vine. This eatery boasts a buffet but fear not, they have multigrain vegetarian pasta!
Now, you have to check out the awesome Toy Story ride as well as the Muppet Show. If you're feeling peckish, pop into Pizza Planet (just like in the Toy Story movie!) and order up a cheeseless pizza piled high with yummy veggies and served with a salad. But if you're looking for something more retro, chow down at the Sci-Fi Dine-In Theater Restaurant! Not only do you get to enjoy your meal seated in a classic car, you get to choose from dishes like Seared marinated Tofu, fresh fruit salad and yummy mixed green salads.
On your way to Honey I Shrunk the Kids and NY Street, you may have a hankerin' for Italian. Luckily you won't be far from Mama Melrose's Ristorante Italiano. It smells divine as soon as you walk in and their minestrone and risotto do not disappoint!
Both the ABC Commissary and Backlot Express serve up a bunch of good veggie options, however the 50′s Prime Time Cafe is tough to navigate if you're a special diet diner. Guess they're keeping true to the unhealthy 50′s American cuisine!
Regardless of where you dine, you'll have a blast at this movie themed park. Be sure to save time to see the Fantasmic show at night and have a safe and healthy time!
Additionally, if you really want to plan your worry-free day at Animal Kingdom, make your dining reservations ahead of time and let guest services know of any special diet requests so they can accommodate you accordingly. Contact Disney's Dining Reservation Center at (407) WDW-DINE or (407) 939-3463 to speak with a Cast Member to make your special requests and reservations.
Related posts: