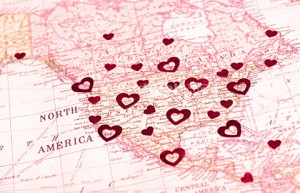 Ah yes, we've given all of the gifts, put away the decorations and rung in the new year. And once the December holidays are through, we're launched into Valentine's Day mode! What to do, where to go, who to spend it with.  Well, while I can't help you in the dating department, I can help you in choosing some of the most romantic Valentine's month destinations. Whether you have a valentine this year or not, you may want to check these places out just because they are so dang pretty!
Aspen, Colorado
A notable haven for the rich and fabulous, Aspen offers more than just good celebrity spotting. Yes, this is a skier's paradise, but it's also a great outdoor romantic destination winter or summer with its stunning scenery, great hiking, superb accommodations and a busy nightlife. Travel 15 miles southwest of Aspen to Maroon Bells with its lake and alpine meadows, and where there are no cars allowed. Hike the trails, enjoy the mountain air and take in the stunning scenery. Glenwood Hot Springs, just 40 miles northwest of Aspen, is a perfect romantic indulgence. You can also get your romantic Western adventure fix with a visit to T Lazy 7 Ranch with its horseback rides and camping trips. Whether you choose to curl up in your lodge in front of a roaring fire or live it up at the myriad of pubs, clubs, discos and country and Western bars. Veggie & special diet locale of note: Explore Booksellers

Paris, France

With its beautiful public parks, ubiquitous sidewalk cafés, famous art museums, historic churches and palaces, Paris is a city that you come back to again and again. There is so much to see and do, especially out of doors. Whether it be strolling hand in hand along the quais, riding a bateau mouches around the Ile de la Cite, browsing the wares of the bouquinistes, or crossing the Pont Neuf, the Seine is the lifeblood of this ancient city and its chief point of reference. But if you really want to know why Paris is the city of lovers, visit the tomb of Abelard and Heloise at Pere Lachaise Cemetary. Veggie & special diet locales of note: La Victoire Suprême du Coeur & Saveurs Végét'Halles
New York, New York
Romance is always in the air in the Big Apple. The city that never sleeps is always ready to host lovers not only around the clock, but year-round. What's more romantic than a carriage ride in Central Park in the spring or skating at the Rockefeller Center in the winter? Shopping, museums, theater, river cruises, fantastic dining, it's all available in NYC. Take in the neon lights of Times Square along with a spectacular Broadway show, or make your way to the alternative SoHo and funky Greenwich Village. Cuddle up on the Staten Island Ferry, or walk across the Brooklyn Bridge and take your time lingering over a romantic candlelit dinner at any one of New York's fabulous restaurants. Veggie & special diet locales of note: Check out my New York posts 1, 2 and 3!
Hayman Island, Whitsundays Queensland, Australia
Ah, the Great Barrier Reef. If you didn't see it for yourself you'd be forgiven for thinking this sailing and watersports hub at the tip of the country was the figment of someone's imagination. Crystal clear waters, pristine sandy beaches and a world-renowned reef make this the quintessential sun, sand and sea romantic paradise island holiday. Seventy-four islands make up the great Whitsundays, and while there are ten resorts on eight of the islands to choose from,  Hayman is the place to be. Renowned for its luxurious surroundings as well as outstanding chefs and cuisine, it's the epitome of romantic indulgence. Wouldn't you want to be surrounded by a huge lagoon pool overlooking tropical vistas and sandy white beaches? Quaint island boutiques, sumptuous dining and killer sunsets with a cocktail in hand are the stuff romantic vacations are made of. Veggie & special diet locale of note: Azure at The Hayman Island Resort
Guangxi Province, China
Located in the south of China on the Gulf of Tonkin and sharing a border with Vietnam, Guangxi Province enjoys a subtropical climate, lush landscapes and rugged mountains. If you saw the film The Painted Veil, then you are already familiar with this picturesque region. After visiting the colorful caves, pagodas and former royal complex in the capital Guilin, drift lazily down the river amid otherworldly karst peaks towards Yangshuo. Then visit the dramatic Longsheng rice terraces and sample the region's famous rice noodles with its chili sauce made of fresh chili, garlic and fermented soybeans. Veggie & special diet locale of note: Pure Lotus
Nassau, Bahamas
All Caribbean islands know how to pour on the romance, but for our money, Nassau Paradise Island in the Bahamas not only has the requisite pink sand and turquoise waters, but also offers the greatest variety of places to eat, nightlife, and resorts. Stroll the cobblestone streets, indulge in watersports, shop for traditional Bahamian handicrafts, or sip cocktails overlooking the ocean. Whether you want to take a romantic horseback ride or carriage tour, the choice is yours. Check out the Changing of the Guard every other Saturday at the Government House, make a trip to the Straw Market to purchase some handmade souvenirs, or spend a day sailing the island on one of New Zealand's former America's Cup yachts. Then head back to your luxury room and drift off into sweet slumber and perfect Caribbean dreams. Veggie & special diet locale of note: Carmine's NYC
Costa Rica
Stunning natural rainforests and exotic landscapes make Costa Rica not only a superb romantic getaway, but also an eco-friendly one. There are so many romantic things to see and do in Costa Rica that it's hard to know where to start, but be sure to include at least a few of the following: a trip to the Irazu and Poas volcanoes, the romantic La Paz Waterfall and Butterfly Gardens or a tour through the Braulio Carillo National Park. Bond with your loved one as you zip-line through the rainforests or take a rafting trip. Only in Costa Rica can you see big cats in Corcovado National Park, monkeys and turtles in Tortuguero or oodles of orchids in the Monteverde Cloud Forest. Veggie & special diet locales of note: Lands in Love Vegetarian B&B, Casa Metta Vegetarian B&B, & Waterfall Villas Eco & Veggie B&B
Tahiti
Tahiti is the largest island in a cluster of 118 islands, grouped inside the archipelago of Society Islands in the southern Pacific Ocean. Deep valleys, clear streams, and high waterfalls make it a picture-perfect destination and help explain why its intimate resorts, small peaceful villages, and miles of quiet pristine beaches are considered one of the best places in the world for  "alone time." True romance is an over-water bungalow and there's plenty to choose from here. Sleep high above the turquoise lagoon waters in your thatched-roof hideaway with all the amenities and service of a first-class hotel room. Take a romantic cruise around the islands, enjoy a myriad of watersports and be sure to indulge in a romantic Polynesian-style spa treatment utilizing fresh flower baths, body wraps with banana leaves and fresh fruit masks. Veggie & special diet locale of note: Mobile Food Booths at Ferry Plaza & Farmer's Market
Santorini, Greece
What would a romantic vacation be without a trip to the Greek Islands? There's so many to choose from, and while all offer reasonably priced vacations, island cruises and great Mediterranean fare, Santorini is our favorite for lovers, with all hotel rooms offering stunning sea views. Here you can choose any local restaurant perched high in the hills and overlook the Aegean Sea almost 1,000 feet below. Sipping wine (or Ouzo if you're brave) and eating tapas as the sun hits the water is a guaranteed romantic Kodak moment. Visit Perissa and Kamari beaches with their black volcanic sand, meander through the quaint ancient villages of Pyrgos and Akrotiri, and sign up for a romantic swim in the Volcanic hot springs, accessible only by boat. Veggie & special diet locale of note: Ampelos
Venice, Italy
It's impossible to think "Venice" without using "romance" in the same sentence. Make sure to visit this romantic city guaranteed to capture your heart and soul before it finally sinks into the Adriatic Sea. This ancient port city replete with canals, bridges, and centuries old buildings is guaranteed to make your romantic heart beat just a little quicker. An evening gondola ride along the Venice canals is an absolute must, as is a stroll around Piazza San Marco, one of the grandest squares in Europe. If you're still not romanced-out, then head to both the Rialto Bridge and the Bridge of Sighs, where the two of you can declare your undying love once more. Veggie & special diet locales of note: Osteria Giorgione & La Piscina at Pensione La Calcina
So like I mentioned above, whether you have a partner or just go with buddies, these places are beautiful and can spark or re-ignite any flame!
Related posts: