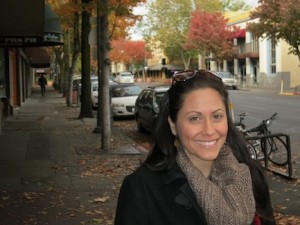 Known for being a college town surrounded by farmland, Chico is a great little town in California. Just north of Sacramento, Chico has a great downtown area that is packed with cute shops, nice restaurants and an awesome park. It's a fun place for a little excursion and a fab place to dine as well!
As you may have noticed, I'm always on the hunt for great vegan and gluten free pizzas when I travel and Left Coast Pizza definitely makes the cut! With a new gluten free option and tons of great veggie toppings, just order up a pie sans cheese and you've got a delicious meal that suits all your special dietary needs!
Nothing starts a morning right, especially when traveling, like a nice latte and a tasty pastry. Upper Crust Bakery hooks up their vegan and gluten free diners at breakfast as well as during lunch. Lots of delicious sandwiches, soups and salads, and even yummy black bean chili, UCB is a must on your dining card when in Chico ; )
If a nice sit down meal that cooks up healthy, local fare, Leon Bistro is your place. Using fresh, farmer's market produce, they whip up some awesome vegan meals. You can veganize the wild mushroom wellington, devour their paleo sweet potato chips or savor their flavorful organic veggie platter. Or have them all, yum!
For a quick yet healthy meal, Pluto's is just the place. Tossing up fresh, made-to-order salads and sandwiches, Pluto's is perfect for a quick lunch on the go. I love their wide variety of vegan ingredients to create a ginormo yet nutritious bowl of green goodness!
I love Mexican food as it always puts a smile on my face. Tres Hombres is a super fun establishment with lots of great veggie options to help keep your tequila down ; ) Try the veggie fajitas or tacos and be sure to share some guacamole!
For more information, visit www.HealthyVoyager.com
Related posts: