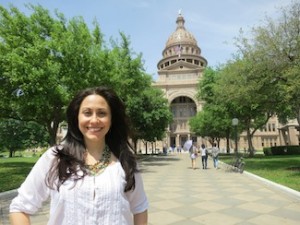 I left my heart in Austin, Texas! I know the song says San Francisco but Austin is a great American city that is not only the progressive, college and music town state capital, it's also super health conscious, green and mega vegan friendly. A Texas city like no other, Austin is home to the headquarters and first Whole Foods Market, The University of Texas Longhorns, IBM, Google, Facebook and Apple as well as being the live music capital of the world. In addition to all of the creative goings on, the city is buzzing with youth what with all of the hip neighborhoods that combine living and businesses such as quaint coffee shops, gourmet restaurants and cool bars tucked in all boroughs of the city. Located on the Colorado River (AKA Lady Bird Lake), Austinites enjoy their city, and their health, by biking the river trail, kayaking or even swimming in their city center natural spring.
As one would imagine, a city so vibrant with life and things to do, there is no shortage of incredible places to dine!
I'll start with one of my most favorite places in the world, Park Lane Guest House. An eco-friendly, vegetarian bed and breakfast, this oasis in the city is a must for any Austin traveler. Nestled in the beautiful Travis Heights neighborhood and 2 blocks from the super cool South Congress strip, Park Lane is prime for sightseeing as well as relaxing.
Basically built from the ground up by owner and "hotelier" Shakti, she has made a cute home as veritable garden of Eden for her guests to enjoy. The bed and breakfasts boasts 3 private cottages as well as 1 single room for folks to enjoy. Eco-friendly is an understatement as not only is each room cleaned with chemical free cleaners, even the mattresses are organic! Each has its own unique style and amenities but all get to enjoy the grounds complete with crystal clear pool and waterfall; gardens rich with flowers, herbs and vegetables; and even a chicken coop with happy chickens!
Each morning Shakti wakes you with the aroma of her gourmet, organic vegetarian and vegan breakfast, all made from scratch and featuring herbs and veggies from the gardens. For vegetarians, the organic eggs come from her happy chickens. Sit and enjoy a delicious breakfast on your private patio while enjoying the wind chimes and waterfall, leaving all of your cares behind. Just make sure that you book in advance and make sure you stay a few days to soak in the beauty and relaxation. Indulge in fine local, organic coffee in the morning, sleep like royalty at night and leave feeling refreshed at Park Lane!
I crave Italian quite a bit so I had to try Asti in Hyde Park. yet another cool hood with tons of dining options for its residents, Asti is not your usual Italian joint. It's decor is hip and chic and its menu is fresh and innovative. Sure, if you are really in the mood for pizza, pasta or espresso, they have you covered, but if you're looking for the rest of the flavors of Italy, this is your place. Accommodating special diets is no problem for them as the chef is more then happy to wow you with his vegetable skills. Beautiful risottos, lightly braised veggies, outstanding bruschettas and bean dips, don't forget about their vast array of vegan friendly sorbets. Top notch food that is light, healthy and beyond tasty, don't forget to put Asti on your list of must eats!
While Whole Foods Market is the bigwig in town being that Austin is the birthplace of the popular natural food chain as well as having its headquarters located downtown, Austin's large health conscious community made room for the super neat Wheatsville Co-op. A cooperative market that not only allows its employees and members to benefit from deals, gatherings and even be on the board, Wheastville also showcases a great variety of co-op products as well. Since 1976, the market as stayed ahead of the needs of its ever growing healthy and eco-friendly community by anticipating its every need. From outdoor rainwater receptacles to irrigate its gardens to encouraging folks to bring in their own containers for deli foods, the market has implemented many wonderful programs that help their customers, owners, community and the earth. The deli has a kick ass popcorn tofu po' boy along with killer kale salads, veggie juices and shakes, an insanely awesome bakery complete with vegan donuts and more. The store lets you know on it's pricing labels how far each product has traveled so you can gauge the carbon footprint as well as a produce board letting you know how many items are in fact organic as well as local. Come in for lunch, grab some cool specialty products and feel good about your contribution to the earth at Wheatsville ; )
Living in LA, the raw food craze is well engrained in my town. But Beets Cafe is the first of its kind in Austin and is doing a terrific job! the food is not only aesthetically pleasing but it's hearty and fantastic. Plus the vibe is bright, modern and cool, exactly what Austin needs for its intro to living foods. Creative sandwiches, salads, noodle dishes and decadent desserts, Beets will be a tough act to follow for future raw eateries. Well known for their beet burger, Asian noodle salad and crazy good mint chocolate chip cheesecake (yes, I ate ALL 3), diners must come hungry because this raw foodery will fill you up like nobody's business!
Seeing as how Texas heat is famous, ice creameries are a smart investment. And Sweet Ritual corners the market on making the smart choice of opening and all vegan ice cream parlor! Located inside the Daily Juice Bar in Hyde Park, Sweet Ritual is sheer heaven. With handmade vegan soft serve, an endless list of extraordinary vegan toppings and made from scratch vegan waffle cones, you have to break your diet for one of the sweet concoctions. No matter your sugary poison, they make shakes, sundaes, cups and cones in all shapes and sizes. So I warn you to caution to the wind and for once, don't be "good". Indulge and enjoy, I give thee permission!
Ok, I'm not done so stay tuned for more Austin awesomness next week!!
Related posts: