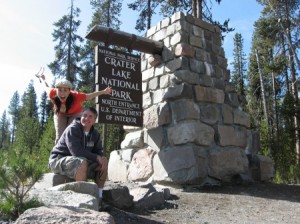 This is it, the last official holiday weekend of summer. Back-to-school, back to work, winter break is months away.  For some, big vacations are the way to end summer 2010 with a bang but for others, time and finances may make that type of trip impossible.  Regardless, make this last big weekend count so here are a few tips on how you can make the most of summer no matter your schedule or budget!
Be a Hometown Tourist
Many residents don't take the time to visit all the landmarks and attractions that their hometown is famous for.  Make like a tourist and visit a popular monument, a local museum or attend a hockey game. Sometimes a stay-cation is all you need to recharge ; )
Theme Park it!
Be a kid again.  Gather some friends and spend a few hours at a nearby theme park.  Let loose and ride the roller coasters. Look out for resident deals to save you some cash. If you're afraid of what to chow on while you're there, check out my healthy theme parks article! Summer time brings out the kid in all of us so a theme park suits the mood.
Sleep Away
Go online and find a reasonably priced hotel in your own city, book a room for a night or two and go.  Since your stay will be short, you can even splurge and go for that five star hotel that you have always wanted to visit.
Enjoy the luxuries of room service and all the amenities, such as the pool and jacuzzi.  This provides the feeling of being away without the mileage or the airfare.  Take the night to just relax by yourself or with someone special. If you have kids, find a hotel with fun activities or a neat pool while you take time to chillax!
Take a Hike!
Find a nearby nature preserve or mountain with marked hiking trails.  Grab your boots, backpack and water bottle and get moving.  Make the most of the sun and warm weather by taking in all that nature has to offer. Pack a lunch and make a day out of it with pals.
Day Tripping
Plan to do something fun for the day.  Look up towns and landmarks that are up to 2 hours away so you can make it up and back comfortably with time to explore. You'd be surprised how even being 30 minutes outside of the city can feel like being a world away ; )
Weekend Getaway
Plan ahead to take the whole weekend off and devote it to yourself, your friends or your family.  Find good last minute deals for spas, hotels and even flights. For us Southern Californians, Vegas is a quick and inexpensive getaway if you know where to look. For Floridians, Orlando.  Explore as far as you can for as long as you can.
Camping is also a great, affordable weekend trip that gets you away from the big city stress and in touch with nature.
Get Creative
No matter what you do this Labor Day, get out there and do SOMETHING! Whether you need some time to yourself to prepare for school or a new job or have a family and want to make some final summer memories, explore your world and enjoy it while you can ; )
For more information, visit www.healthyvoyager.com
Related posts: