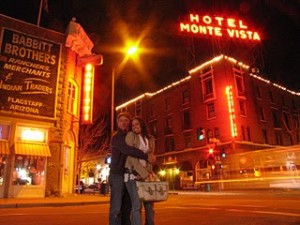 After walking over the Grand Canyon with nothing but glass between us and the canyon below, we headed off to Flagstaff, Arizona. We stayed here for a few nights and I loved the health friendly vibe.
A nice mountain town and the closest place to stay if you are heading towards the southern rim, and most frequently visited, portion of the Grand Canyon. Home to Northern Arizona University and somewhat of a ski town as they are a quick drive to the Arizona Snow Bowl, Flagstaff has a lot of great options for the healthy food aficionado. Flagstaff has a great downtown area with some rather cute bars (yes, I am The Healthy Traveler, but I can still whoop it up!!)
Dinner at Mountain Oasis was fantastic! Fresh and super plant based (not a lot of vegan junk food on the menu) it was delicious and a great way to unwind. I opted for the hearts of Palm bruschetta and the Pineapple Tofu Salad. It's got plenty of options for omnivores as well as green eaters so no one goes hungry at the oasis!
I stumbled across Macy's Coffee House & Vegetarian Restaurant our first morning. Macy's had a great indie, college vibe with the menu to match. Fresh Juices, soy lattes and delectable snack size meals were a great way to start our day. And health was the name of the game here at Macy's. Nothing was fried or processed and even though I saved no room for dessert, they looked great in all their organically sweet glory. www.macyscoffee.net
On our way out of town, I wanted to stock up on goodies for the road and I hit the jackpot. We passed right by New Frontiers Market as we pulled in to gas up next door. This was a small version of a Whole Foods but sacrificed none of the variety. In fact, I wanted to do cartwheels in the deli!! They offered all types of breads for their sandwiches, including wheat free spelt, as well as some killer sides like vegan potato salads, dolmas, quinoa and much more. I also had to throw a scrumptious slice of chocolate tofu cheesecake into my overloaded basket. Even my convenience food counterpart agreed it was convincingly yummy! I have to add that the service was impeccable and the staff incredibly sweet!
So yes, I was as happy as a kid at Chuck E Cheese in Flagstaff and there's more where that came from next week. Lots of places that offer clear conscience cuisine for the omnivore and herbivore ; )!
Related posts: