Larger Package Makes For More Vegetables Per Serving;
Protein Content, Non-GMO & Gluten-Free Attributes Highlighted

IRVINE, CA., July 20, 2010 – Helen's Kitchen, which late last year merged with Organic Bistro under a newly-formed parent company called Food Collective, Inc., is significantly re-branding its entire Helen's Kitchen product line, it was announced today by Helen's Kitchen founder/CEO Stephen Moore. The newly re-branded Helen's products will begin appearing in stores in late June.
The new re-branding of the Helen's Kitchen line includes several key components:
11% more product for every single entrée
An extra vegetable serving in each meal, resulting from the increase in size of all entrees from 9 oz to 10 oz
New carton design and layout (shown at right and detailed below)
A case pack size change from a 12-pack to a 6-pack
The re-naming of Helen's TofuSteaks as GardenSteaks
The front panel of Helen's Kitchen entrees and GardenSteaks packages now feature improved call-outs highlighting product attributes, including GMO-free, gluten-free, made with organic ingredients, overall protein and vegetable serving amount.
Back panels (shown below) now feature easier to read nutritional facts, a recap of the product's overall health benefits, and a photo of Helen Moore with her son, Stephen. In addition, Helen's back panels now include a brief company background titled Helen's Story, along with a new On The Menu section in which Helen offers a warm and personal description of her inspiration for that particular meal.
In support of the new re-branding efforts, Helen Moore will be participating in a nationwide store tour, hosting sampling events across the country.
Commented Stephen Moore, "Although Helen's has earned a very loyal customer following over the years, we feel our new re-branding better communicates who we are, why we're different, and the care with which our products are made. By refreshing our overall look and message, doing a better job of introducing Helen Moore herself to the public, and bolstering the scope of our promotional, advertising and public relations efforts, we feel confident the Helen's line is poised to enjoy its most substantial period of growth ever."
About Helen's Kitchen
Helen's Kitchen was founded by Stephen Moore in 2002 and named after his mother, Helen. Always a strong believer in blending great taste and great nutrition together, Helen started serving her self-created GardenSteaks years ago to Stephen, and soon both he and even his non-vegetarian friends were hooked. Eight years later, Helen's Kitchen has become the little food brand that could: youthful, passionate, creative, caring, and absolutely inflexible when it comes to meeting the highest possible standards of excellence. Helen's Kitchen also recently merged with the Organic Bistro brand and has formed a new parent company called Food Collective, Inc. under Stephen's direction. For more information, please visit www.thehelenskitchen.com.
Media Contact:
Shaina Zalma
Crier Communications
310-274-1072 x203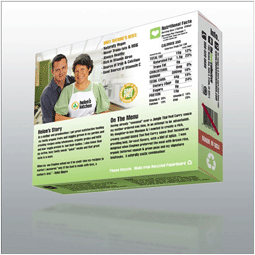 Related posts: