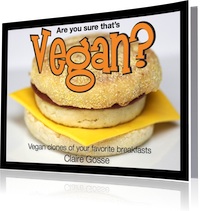 When was the last time you enjoyed eggs Benedict, and Egg McMuffin or quiche for breakfast at home?
As you know I make it my mission to veganize our favorite meals. My last cookbook took on desserts and received fantastic reviews.
After months of hard work, trial and error, and testing I am proud to release the second in my Are You Sure That's Vegan series that helps you make better breakfasts.
As part of my pre-launch I am offering digital download (PDF) copies of my book before the print version is available. These can be viewed on most devices and printed from your computer.
As my way of thanking you, I want to invite you to enjoy my introductory pricing. But you'd better hurry, it's only available while my website is being revamped.
http://breakfast.areyousurethatsvegan.com/
Respectfully
Claire Gosse
Related posts: