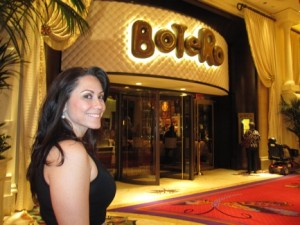 Vegas may be a place where you can lose a lot of money but it's also the place that keeps on giving!  With healthier and vegan dining options that is!  Every time I go back, a new spot opens up making the City of Sin the new hot spot for sin-less eating!  Check out the new yummy options right here!
With a view of the famous Las Vegas Strip, you will find Serendipity. The newest addition to the Caesar's Palace property, this famous New York sweet spot has got prime real estate in casino-ville.  Sure, it's known for its ice cream and big diner style foods but they don't leave the veggie heads out.  Easily veganizable salads and sides as well as a delicious, home made veggie burger made of brown rice, veggies and other healthy grains, cop a squat on the strip while dunking your sweet potato fries in home made ketchup ; )
As I've mentioned in past Vegas write ups, Wynn & Encore now offer vegan options at all of their eateries. From buffets to fine dining, you need not worry. Botero at Encore is fine dining at it's best with a vegan menu to die for.  Beautifully plated and exquisitely prepared, be ready to drain your wallet and fill your tummy. The cauliflower hummus is divine as is their crispy tofu.  It is so nice to have a wide variety of healthier, veg friendly options at such an upscale locale. Even though the namesake is that of the famed Colombian artist Botero, who loved to paint plump people, you don't have to leave the restaurant feeling like one of his subjects!
Jaleo at Cosmopolitan is a must (as is the Cosmopolitan itself). The newest addition to the Vegas strip, this hotel is located in the heart of City Center.  Sleek, modern and sophisticated, so is their collection of places to dine. I opted for Jaleo as tapas style dining is a favorite of mine. And it did not disappoint.  A wonderful range of vegetarian and vegan options from veggie paella to potatoes with a duo of lip smacking dips, there are more than enough small plates to fill you up. the decor is great, the atmosphere fun and the menu delish!
Looking for casual with a little funnk? Try BLT at The Mirage. Sure it's a burger joint but they've got veggie goodness too! Their falafel burger is fabulous and a definite step up from the usual rubbery veggie patty option at other eateries. Salads, fries and neat twists on veggie options are things to bet on at BLT!
I'm pretty sure that is is all just the beginning and I'll be sure to keep you posted with new Vegas info soon!
Related posts: