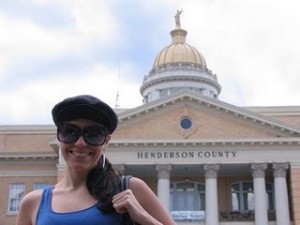 Taking a tour of North Carolina, we made a pit stop in Hendersonville, located about 30 minutes from Asheville. Cute, quiet and lush with green forests, this small, American town had some fine places to dine.  Not far from here, Dirty Dancing was filmed (you can take a guided tour of it), and its no wonder as the calm and peaceful, rolling hills are a slice of American splendor ; )
A way stylish joint with a creative menu, the Never Blue was our first meal in town.  I devoured my home made hummus (yummy with spinach and lots of garlic) along with my fresh beet salad (sans cheese). Some great Spanishy & Asiany culinary action going on here. This place is such a treat for anyone passing through town. For more information, visit the Never Blue website.
Square 1 Bistro felt like chic and hipster Asheville had moved to small town America.  Open for brunch, tapas and dinner, Square 1 prides itself on serving sustainable, green and local cuisine. The menu is based on what is in season and grown locally so that each dish that leaves their kitchen is as fresh as can be. Their garden plate was not only beautiful but tasty too! There is nothing like freshly picked veggies cooked with flare. Do yourself a favor and have a meal and a glass of wine at Square 1 Bistro.
For a great cup o' joe and a killer snack before heading out of town, pop into the Living Room Cafe. Really cute inside, this coffee shop is more then meets the eye. Home made desserts, soups, salads and famous sandwiches are a great reason to come on back through town. The veganized veggie cuban was rad and the service was stupendous. Don't miss your latte or your road snack, head over to The Living Room Cafe at 536 N Main St, downtown, Hendersonville, NC 28792 (828)692-6335.
Some of my favorite finds are in the smaller towns. It's so much fun to discover great food in all sorts of neat locations.  Hopefully your future travels will bring you through good ol' Hendersonville someday!
Related posts: