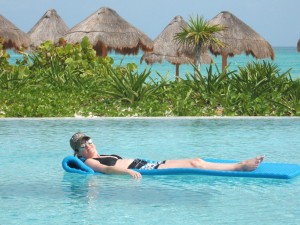 So, last week while everyone in the North East was freezing their butts off, my husband and I were enjoying some sun and sand in the beautiful Mayan Riviera. When we travel we don't usually go for all inclusive hotels, but this time we decided to give one a try. After doing a lot of research I decided on Secrets Moroma Beach. Since they have 6 a la carte restaurants and 1 buffet, I figured there would be enough food choices for us and we wouldn't go hungry. Secrets did not disappoint.
While the vegan selection on the menus wasn't huge, the servers were very accommodating and were happy to help when we did ask for something special. For breakfast we would hit the buffet. It was very much a typical breakfast buffet, so I would load up on fresh fruit (the mangos were amazing), and maybe have some toast and jam. A couple of times I also had cereal and although they don't have soy milk out, our server Jaime would go get some for us.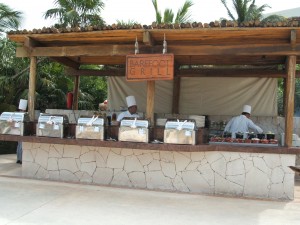 At lunch you didn't even have to leave the pool if you didn't want to. Sometimes we would just stay at the pool and much on chips and guacamole, fries, and fresh fruit from The Barefoot Grill. They were also grilling up burgers and hot dogs and if I had known that, I probably would have brought some veggie burgers with me for them to cook up. There were also servers walking around with all different kinds of food to try, unfortunately most of it was not vegan. On the days when we didn't feel like eating at the pool we would go to the buffet. They had a pasta station where you picked your pasta, sauce and veggies and they would make it fresh for you. The lunch buffet also had a really nice salad bar along with several vegetarian dishes (not all were vegan). And of course there was always fresh fruit.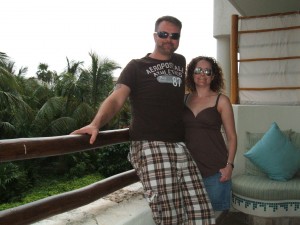 We ordered room service a couple of times for dinner, and although they didn't really have much on the menu we were able to get them to do something special for us. The other nights we went to the Japanese restaurant, Himitsu. They had an amazing tofu dish so once we found that we just kept going back night after night. They also made vegetarian tempura, vegetarian spring rolls, vegetarian maki, miso soup, vegetarian pad thai, and vegetarian fried  rice which they made without egg for us. We tried going to the Italian place one night because they had make your own pasta, but it was too busy so we went back to the Japanese place.
All the restaurants had menus out front so you could see what they had to offer and if there were vegetarian items on the menu they were marked. They also marked any items that could be made vegetarian. They also had this great coffee shop where Brad could go and get his soy lattes. They always had fresh fruit and other snacks out. They also had a selection of sandwiches including a vegetarian sandwich that looked pretty good.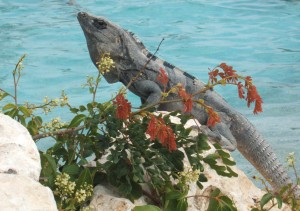 I have to admit I was a little worried about going on an all inclusive package since the last time I did it was awful, but Secrets Moroma Beach was fantastic. It was awesome just grabbing fruit or chips and guacamole whenever I wanted and not having to pull out my wallet. The rooms were amazing, the property and beach were beautiful, and the staff were so friendly and accommodating.
If you're thinking of going on an all inclusive vacation and you're vegan or vegetarian, it's always good to research the hotels you're interested in.  Make sure they have a wide variety of restaurants to choose from and even contact the hotels if you have specific questions. I usually email and make sure that they have things like soy milk on hand. I also know that when I travel to certain places, the food is never going to be as good as it is at home, and as long as I don't go hungry I'm happy 🙂
Related posts: