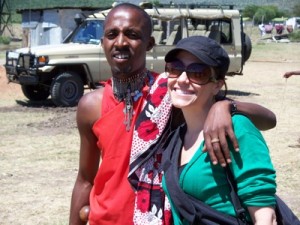 Last summer I wrote about some great opportunities in healthy, green and volunteer travel. In the past year there have been so many things that have popped both wonderful as well as traumatic (i.e. Haitian Earthquake) that have opened up so many doors to folks suffer from chronic wanderlust.
The economy hasn't been to kind to many people, worldwide, so travel has been put on the back burner. In addition, people who have restrictive diets or are being eco conscious, leaving home can also be a bit of a challenge. Well, lucky for you I've compiled another list of ways you can hit the road regardless of budget, diet or carbon footprint!
Healthy Voyager Tours – Of course I had to start with this one ; ) Starting October 2010 with our first excursion to Machu Picchu, Healthy Voyager Tours will be visiting some of the world most exotic locales while making it easy for vegans, vegetarians, gluten free, diabetic and other special diets to travel worry free. All inclusive tours that will offer delicious cuisine, fitness and cooking classes as well as world class accommodations and guided tours, you won't want to explore the globe any other way again.
Cross Cultural Solutions – With locations in Africa, Asia, Eastern Europe and South America, CCS has a variety of programs available for travelers who are looking to do some good while away from home. For your philanthropy you travels can be covered from the flight to the entire trip depending on the program you choose. See some unique parts of the world, be immersed in new cultures while helping fellow human beings live a better life. Very cool!
Terra Incognita Eco-Tours – In search of some out-of-this world wildlife while minimizing your impact on the planet? These eco tours practice responsible travel to natural areas that helps conserve the environment and improves the well-being of local people. Not to mention the insanely cool places they visit, check them out!
Access Tours – Want to visit the American West but are disabled and/or wheelchair bound? Not to worry! Access tours all all access tours for all sorts of folks to some of the United States most breathtaking destinations. Christianakis Travel tours offers the same service for the physically challenged who want to explore Greece!
Fitness Tours – Want to lose some weight or challenge yourself while away? Check out the butt kicking itineraries available through Fit Tours! Tours around the world to gorgeous locales will double as your gym ; )
HOW – A wonderful organization, Helping Orphans Worldwide, HOW take volunteer groups to various locations around the world such as Vietnam, the Philippines and Moldova to help save children from awful situations.
In addition to these fun travel opportunites, here are a few sites that may help you in the $$ department if you're itching to leave town soon!:
AirBnB – rent rooms, homes or resorts worldwide for half the price
Couch Surfing – Yep, a site that connects homeless travelers to couches and sometimes beds to rest their weary heads ; )
Home Exchange – Make yourself at home anywhere in the world
Either way you decide to go, just go! There's a whole world out there and time isn't stoppin'!
For more information, visit www.healthyvoyager.com

Related posts: