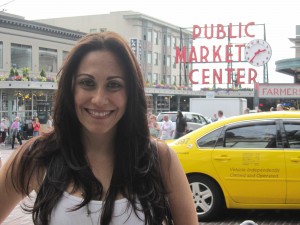 As promised, here are some more delicious Seattle secrets! Whether you are taking a leisurely city sightseeing tour or just passin' through on a west coast tour, these tasty hot spots are a must visit, regardless of your time in town. Ok, at least make time for a few of these because you'll be glad you did!
For breakfast, or any time of the day, pop on over to Tangletown and go nuts at Mighty O Donuts. An organic, vegan donut shop, no matter what your diet of choice, these sweet treats will knock your socks off and more! With freshly made deliciousness like french toast donuts, real raspberry chocolate raspberry donuts and real apple filled apple fritters, you can't choose just one. Order a bunch and enjoy them throughout your stay in Seattle. Then ship a bunch home so you have plenty to enjoy later!
If the Capitol Hill district isn't on your list of places to check out, make it one because if even just to dine at Plum Vegan Bistro, it's worth the visit. It's gourmet, it's unique, it's incredible vegan fare with tons of flavor, textures and tastiness! The Mac n' Yeas is not to be missed and neither is their hand muddled specialty organic cocktails. Chef and owner Makini Howell comes from a long line of vegan restauranteurs and she has proven that she is a powerhouse all her own. Chic yet warm decor and a fantastic menu that puts a smile on both herbivores and carnivores faces, Plum Bistro is a gastronomical hit!
Stick around Capitol Hill for some late night drinks, tunes and vegan eats because Highline Bar has all 3. With drinks named after 80′s/90′s hair bands, a photo booth a a kickin' vegan bar menu, it's a great place to meet friends for a fun night out. Come in for shuffleboard , cake-aroke and a "winger", then stay for the sweet potato tater tots and the Philly Dip!
The U district (university district for us tourists) is home to lots of health-conscious and vegan eats. One such place is the Wayward Vegan cafe.Young, hip and a ginormo menu of vegan-liciousness, be sure to show up on an empty stomach as apparently size matters here ; ) I would say come in for brunch so that way you have an excuse to eat breakfast and lunch. Perhaps an omelet along with their signature Warlock sandwich! Additionally, if you're lucky, the folks who own Wayward also own Pizza Pi, a vegan pizza joint right across the street, so make room for some of that too!
Now, next to the Space Needle, the Public Market one of Seattle's most famous landmarks. Packed with people and tons to see, the Public Market is also home to the Original Starbucks at Pike Place. Yep, despite having a Starbucks pretty much o every corner of town, this is THE one to visit. Always a giant line to get in, this historic coffee shop is where it all began. Here you can get shirts, mugs and all sorts of OG 'Bucks gear along with you half caf no foam soy latte ; )
The fun isn't over yet! Stay tuned for one more Seattle post because there are still some fabulous places for you to add to your Pacific Northwest to-do list!
Related posts: