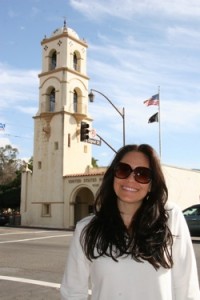 Ah Ojai, just a hop, skip and a jump from Los Angeles, this quaint and cute town, tucked in the valley of Ventura county is a hot spot for spa goers, golfers, celebrities and all around relaxation seeking folks. With wineries and olive oil tasting outlets as well as great hikes and shopping, you'll definitely work up an appetite hangin' in Ojai!
For a getaway, you'll need a cool place to stay and The Capri Hotel is just that place. Eco-friendly, hip and pleasing to the eye, the young vibe is a welcomed juxtaposition to the bed and breakfasts and spa style inns in the area. The rooms are bright and modern, the pool area and grounds are relaxing and peaceful and it has done a great job of keeping its vintage look while giving it a fun twist. You can rent DVDs and VHS tapes (yes!!) to watch in your room as well as order up indulgent spa services. Whether it's a romantic getaway or a fun place to hang with your pals, the pool cabanas and private patios welcome you!
Just steps away from the Capri, you'll find the only fully vegan eatery in all of Ojai, Hip Vegan Cafe. Located behind a yoga studio, this cozy place serves lunch, dinner and dessert. From soups, salads and sandwiches to raw vegan desserts, come in for lunch and take some food to go to chow during a nice hike or picnic in the park! Go for the old faithful, vegan Reuben or go wild with the gluten free Indonesian wrap!
If you're in search of a healthy brunch, quick lunch or fun dinner, The Farmer and the Cook is your place. A walk up counter, casual diner, Farmer also boasts a market with fresh deli/salad bar, soups, juices and a variety of organic grocery products for healthy homes. While the crux of the menu is Mexican, all vegetarian, with lots of vegan and raw, don't miss their weekend pizzas! It's a great place with a breezy vibe, great for families, kids and groups of friends or even just to sit under the canopy to enjoy your shake and a good book! My personal fave: share a kale Caesar salad and a vegan BBQ tempeh pizza under the stars!
Azu is a great place for a romantic meal and a finer dining experience. Specializing in Mediterranean and Spanish cuisine, special diet diners can dine happily here. With dishes like vegetarian paella, veggie soft tacos and scrumptious patatas fritas, you won't leave hungry. Get a glass of wine and dine by the brick fire place for lunch or dinner at Azu.
So if you're cruisin' the California coast or just want to getaway for a relaxing weekend, Ojai is a great choice and now you know where to eat!
Most folks are familiar with Southern Italian fare. Cheesy, tomatoey and very pasta-y. At Monte Grappa, you'll find traditional Northern Italian food, with ingredients sourced fresh from local farms. yet another place that is very accommodating to vegans, gluten free and other special diets, you won't be disappointing with the portions of succulent veggies. My polenta and seasonal veggie dish was light and clean along with my tasty dessert of raspberry sorbet! Dining is as great outdoors as it is indoors and if you ask for the owners either the chef or his lovely wife will come out and greet you!
Related posts: