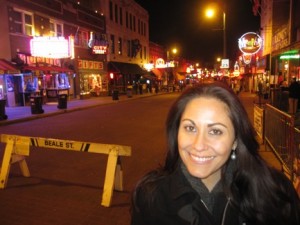 Memphis, the birthplace of rock n' roll, home to Elvis and famed Beale Street, this music city right on the banks of the Mississippi River. Known for it's bbq, I was beyond delighted with incredible food that was abound for a little ol' vegan. The city is rich with history and boasts some famous folks but now, it's quickly becoming a hub for great special diet culinary finds!
Graceland is synonymous with Memphis. Home of the late great rock n' roller, Elvis Presley, it is THE place to see when in town. Touring the king's home, airplanes and various gift shop/museums, whether you're a fan or not, it's impossible to not see him in a whole new light. This Memphis boy did right by his city and they are loving him as much now as they ever did.
Another important stop on a Memphis tour is the National Civil Rights Museum at the site of the Lorraine Hotel. The very spot where Dr. Martin Luther King, Jr. took his last breath is memorialized in a beautiful, poignant and heart wrenching museum. The hotel's facade still remains however the building has become a labyrinth of exhibits on the civil rights movement in America, all culminating with the room that Dr. King spent the last minutes of his life. The entire museum is well done and so moving that it is impossible to leave with dry eyes.
And now for the food!
Let's begin by highlighting the only fully vegan restaurant in town, Imagine Vegan Cafe. Located in the hip Cooper Young district, this fun diner has got everything a vegan comfort food joint should have. And I mean everything! Their menu is giant and everything on it rocks. Being in the south, I had to have their "pulled pork" bbq sandwich with hush puppies. Yumm!! Oh, and I split the spinach artichoke dip with some buddies, heaven!!
One of the prettiest places I've ever had the good fortune to dine at is The Majestic Grille. What was once a silent movie theater back in 1913, just off the main trolley tracks, is now a chic and classy restaurant that is a  must visit. Playing old films and vintage cartoons, the menu is just as cool as the location. And cooler yet are their plentiful vegan dishes! Try their homemade veggie burger or their delicious veggie flatbread with caramelized onion base. Ooh la la! And their Bloody Marys and Mimosas are not to be missed either at brunch or dinner!
Now, you're in for a treat. DejaVu is a New Orleans Creole and soul food restaurant that specializes in vegetarian and vegan fare! Chef Gary is not only one of the most fun people you will ever meet but he will treat you right in his place. Always packed to gills, customers are more then happy to squeeze in with perfect strangers to enjoy a meal at DejaVu. Chef whipped me up a fabulous creole pasta full of veggies along with plantains, veggie rolls, carrot cake and banana nut bread. Everything looked so good but I only have 1 stomach so I'll be sure to come right back to visit Chef Gary at DejaVu next time I'm in town. And you should too!
College kids are so progressive so you are sure to find health conscious dishes nearby. RP Tracks is exactly that kind of place. A fun college bar, complete with pool tables and darts as well as vegan options. Famous for their bbq tofu, they can sub it for basically anything. I shared the bbq tofu nachos and the bbq tofu burrito loved every bite!
Are you "All Shook Up" about Memphis? If so, join me next week because there is more to come! Thank you…thank you very much!
Related posts: