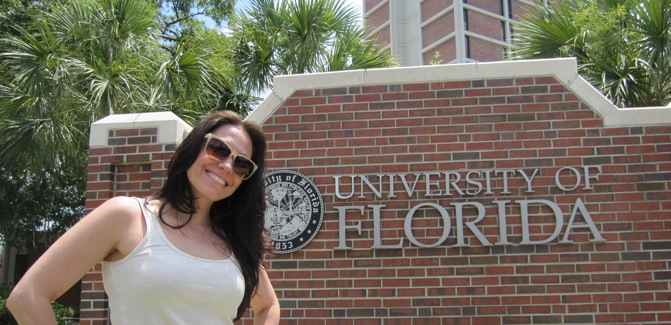 While I am a proud University of Miami Alum, yep, I'm a Hurricane, I have to give props to the Florida town that is home to the University of Florida. Gator Town, that is. Good ol' Gainesville had a smorgasboard of healthy and vegany goodness and I am excited to tell you all about it.
While Gainesville is essentially a college town, they've got some nice stuff. If you're on a tour of Florida, be sure to stop by this inland town and visit its many lakes, springs, botanical gardens or take a guided tour of downtown or event the University. But regardless of why you are in Gainesville, make it a point to come hungry!
I love when a restaurant has the word "health" in its tag line or slogan. I always want to contest it because it's normally not a healthy place. But at Pita's Republic, they really do have some healthy goodies! With a fast casual menu, they've got quick salads, wraps and smoothies and all are easily veganized. With Mediterranean as their main theme, that always showcases good flavors and variety. Lots of veg and health conscious options, I love their veggies and spread pita! Quick, the prices are right and you won't feel guilty at Pita's!
No matter who you're with, they're gonna love the Reggae Shack. Their authentic Caribbean cuisine will knock your socks off and they don't forget about the veg heads either! If you like jerk food (spicy spicy!) you'll love their jerk tofu or veggie burger. And their spicy Rastafarian salad? Yummmmmm! They have a terrific entree menu as well and seriously, make a special trip because you gotta eat at the Reggae Shack!
Organic and Local Eatery, The Jones Eastside, does some pretty neat stuff. With a large menu for all sorts of diners, their veggie and special diet options do not disappoint. Breakfast, lunch or dinner, this sustainable diner is chock full of tasty treats like the TreeHugger bagel, TLT (tempeh, lettuce and tomato) or Tempeh Cutlets Provencal. They even have raw food dishes that will cause you to do cartwheels throughout the establishment.
Book Lover's Cafe is the only fully vegetarian joint in Gainesville and doubles as a used bookstore. Can you say hip college kids? Well thanks to them, this place is awesome. Grab a book, a latte, a vegan sandwich and sugar free dessert and you're set! I'm all about their chimichurri sandwich, sans the cheese ; )
Saving the best for last (well, on this post at least), I recommend The Top. It's cool, it's hipstery and it's hands down delish! Great fro drinks, late night eats and downright gorging, this omnivore eatery really tips the scales toward vegetarians. And they do it oh so well ; ) My pick? The vegan version of the Mastadon Burger with a side of corn nuggets . Top it off with a pieces of vegan choclate cake and you'll be in heaven. You can find this place of culinary awesomeness at 30 N Main St, Gainesville, FL 32601, (352) 337-1188.
Who knew that Gainesville was a mecca for awesome vegan eats? There's still more to come next week to stay tuned!
Related posts: