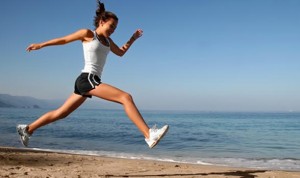 So summertime means bathing suits and skimpier clothing in general. That means watching what we eat and even more so, working out. People always want to look toned and trim and unfortunately, you gotta go the extra mile and add some extra spice to your workouts to do that. And that's hard to do with work, social engagements and travel, especially over the summer while it's hot as Hades outside. It's important to be sure that once summer is over that you don't quit your routine as it will be that much harder to get back on the horse when winter melts away next year. It also keeps you from over eating or eating junk because you're keeping yourself accountable by sticking to a workout routine. But since it's summer and we want to play more then be indoors running on a treadmill, here are a few things you can do that count as working out, getting active, and still enjoying your summertime activities & travels. Don't get caught up in the idea that the exercise has to be a consistent 30 minutes. Recreational activities can also be exercise and doing something is better than nothing. Ten minutes or so a few times throughout the day will add up!
Going to the lake or hangin' by the ocean or pool this summer? Great!
Water is a perfect place to exercise in the heat and humidity of summer. Swimming or treading water is a great way to work the cardiovascular system, If you are boating, go out to an area, stop the boat and anchor, and do some swimming.
Canoeing is great for an all-over body workout. Many lakeside facilities offer rentals and lessons so take advantage of this if you can. It's great for the shoulders, it's also great core, great obliques, and great back work. It also makes the legs work as stabilizers.
Kids like to throw rocks into the water and guess what, it can be a work out! Go out waist deep and grab around for rocks at the bottom of the lake or ocean and see how far you can throw them to the shore. This friendly family competition becomes a workout for the shoulders and abdominals (particularly the obliques). Before you know it, you're exercising and burning calories.
Pack a mask and some fins and snorkel. It's not going to be this high-end cardiovascular workout, but it does keep the body moving. You're using big muscle groups and the fins add increased resistance. It's great work for the back extensors, the lower limbs, and the trunk.
Throwing a Frisbee around and running in sand is a killer workout. Getting a group together for a game of volleyball on the beach is super fun and you'll definitely feel it when you get home.
Heading to the mountains?
Get a whole-body workout in rocky and mountainous terrain by pole hiking. Using the poles allows you to involve the upper body in activity that normally works mainly the legs and glutes. You move with quicker, smaller steps, your arms are pumping and it's almost like race-walking. The upper body motion really gets the heart rate going. It's a great way to add some intensity to your hiking. Small hikes and mountain biking are also great mountain activities to get the blood goin'
Just getting out there and getting active no matter if your on vacation or at home is key. Inline skating, biking, hiking, kayaking, anything. Do it with friends or family and get everyone involved in making some fun, yet healthy, summer memories for years to come ; )
Related posts: