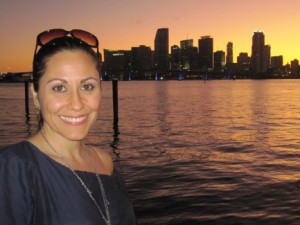 My hometown of Miami is finally getting on a healthier kick! And I have to say, it was worth the wait! With a plethora of healthy, vegan and even raw places to dine, Miami is definitely becoming a force to be reckoned with in the veg world.
Oddly enough, of all the "vegan" cities I have visited around the world, I'm finding that the ones that are just now offering veg and special diet friendly foods to be even healthier then those that are big vegan meccas. Sure, vegan comfort food is great once in a while but when there is a lack of really healthy options, you miss the goodness and wonder of eating real plant based foods. Miami, while making its slow appearance on the veg scene, is doing a killer job of keeping it real!
Let's start with an awesome raw food eatery called Life Food Gourmet. Located just south of downtown, this quaint whole foods restaurant knocks raw food out of the park. Innovative dishes and ways to prep common raw food meals is what this place has perfected. So many delicious menu items made with incredible new ingredients, Life Food is a great example of Miami taking health and delicious food seriously. With the menu boasting icons that show you what part of the body or aspect of health the food benefits, it's a no brainer to lick you plate clean when dining here. Go for any of their shakes and pizzas but don't leave without  having their cauliflower tabbouleh, brazil nut hummus or out of this world chocolate mousse pie!
Another prime example of a healthy, passionate locale who aims to share it with all of South Florida, is Choices Cafe. A small diner that packs a punch. Combining the local Latin flavors with fun all vegan favorites, you won't leave hungry or disappointed when visiting choices. Fresh juices, sandwiches, salads and other delicious treats, go for lunch, go for brunch but regardless, just go! My personal faves are the chili con kale (best chili I've ever had) and the insane burrito (yes, that's what it's called and for good reason). This burrito is filled with all that is awesome in this world ; ) The brainchild of 2 brothers with a mission for providing healthy food and happiness, they are definitely doing it right, attracting all sorts of folks and helping them heal with food.
Now if you're looking for fun and yum in the midst of on of Miami's hottest spots to party, El Vato is the place to be. A unique tequila bar and Mexican food restaurant, don't let the hot rod low rider, East LA themed restaurant fool you. Not only does the menu offer only local, organic, free range food, it also has an awesome vegan menu complete with ooey gooey vegan quesadillas, burritos and veganized versions of everything they make for the omnivores. healthy Mexican with a boatload of vegan options, why would you get your margaritas and chips anywhere else! Party there with the in house DJ, sit in the cool old car while you dine and have a ball!
The food truck phenomenon has hit South Florida in a big way but even bigger and ballsier is the all vegan Mac N' Food Truck! This delicious comfort food eatery on wheels pulls up to all sorts of events, meetups and locations in and around South Florida, proving that awesome vegan food exists, even on a food truck. Their signature mac n' cheese is to die for ( i love their spicy soyrizo mac!) as are all of their fun menu items. Starting lunch delivery this month, it's time to start tracking down the Mac n' Food truck!
In the heat of Miami, a chilly ice cream cone always hits the spot. The Frieze has non-dairy folks drooling with their decadent sorbets like peanut butter, champagne, maple walnut and chocolate mint, you'll be making stops here between meals!
Located in Ft. Lauderdale, about 30 minutes north of downtown Miami, you'll find Sublime. One of the country's premiere vegan restaurants. I've covered them before but they bear repeating as they are always perfecting their menu. A beautiful and stylish restaurant and organic bar, it's the perfect place for a romantic dinner, birthday, wedding rehearsal dinner and so on. It's lovely and the food is divine. Their frito misto will have you thinking quite differently about cauliflower as will their amazing coconut cake. Everything the serve is delicious so be sure you spend enough time in Ft. Lauderdale to dine in more than once!
And that's not all! More to come next week!!!
Related posts: