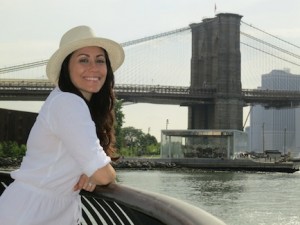 Despite having spent so much time in Manhattan, I'm not ready to leave without looking into the delicious, healthy and vegan eats available across the East River in Brooklyn! So many hip neighborhoods and so much good food, let's get started!
Being in a concrete jungle, amongst all the hustle and bustle, finding serenity is key. And serenity you will find at Boerum Hill's Tres Belle Petite Medi-Spa, a fully cruelty free and all natural med-spa.  Warm, modern and welcoming, Tres Belle offers fantastic facials with only the best products as well as laser hair removal to rock your cute skirt, worry-free, all year round. They use only the best and most beneficial products for skin and employ only the top in skin care experts. An eco-friendly location that caters to their clients' every need, a treatment at Tres Belle will be a welcomed break from sightseeing, overeating, walking or work! It's no wonder they win best spa accolades year after year!
I did cartwheels and squealed with glee when I stumbled upon The V Spot. Why? It's not only a vegan Latin restaurant, it's a vegan Colombian restaurant! Being Colombian, I couldn't wait to sink my teeth into vegan versions of food I grew up with. They've got all sorts of incredible Latin dishes but I HAD to order the Bandeja Paisa, a typical Colombian variety plate of awesome food! But if you aren't into Colombian food, they have everything from breakfast to dessert and everything in between, all vegan and plenty of gluten free options. Located in the Park Slope neighborhood, bring cash and a big appetite and enjoy The V Spot! Oh, and they have their own line of products so be sure to stock up!
Having opened their doors only a few short months ago is DunWell Doughnuts, Brooklyn's fully vegan doughnut shop in Williamsburg (neat Bushwick)! With over 200 doughnut flavors, delicious vegan ice cream and fab coffee, DunWell has quickly become the New York area's biggest hit. Artisanal flavors, gourmet execution and a hip Brooklyn vibe make this place an absolute must visit when in town. I had to try flavors like Sweet Potato Pie, Rose with Dark Lavender and Maple Bourbon because I knew that no other doughnut shop would ever come close to such culinary coolness! Yum!
Now, if you're in search of a place to eat with your non-vegan dining mates, FoodSwings is the place. Herbivore tested, carnivore approved. A giant menu filled with burgers, hot dogs, sandwiches, salads and shakes, no one will leave this place hungry. They even mock the conventional burger joints by having their own version of an monster burger, The Vegan Heart Attack! Be sure to share some buffalo drumsticks, a ginormous burger (I loved the gyro burger) and save room for a Butterfinger milk shake. Come in for lunch or midnight munchies, but no matter what, find your way to Foodswings in Williamsburg!
Alright, I'm finally heading out of the NYC area. See you next week in a new locale!
For more information, www.HealthyVoyager.com
Related posts: