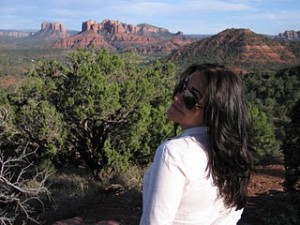 A quick one day trip before we headed to the south rim of the Grand Canyon, we rolled into Sedona and it's neighboring ghost town, Jerome. One of the most beautiful and grounding spots in the country, Sedona is famous for its red rock formations and natural beauty. Known for its spiritual energy, fabulous spas and amazing landscape, you know you'll find some good and healthy eats in Sedona.
I popped into the Oaxaca Restaurant when we first got into town. A super cute Southwestern & Mexican place, they pride themselves on heart healthy food. A great option where everyone can enjoy a meal that not only reflects the taste of the region but the also the connection of mind and body that Sedona is well known for. Oaxaca has picturesque views, is family friendly and is open all day for breakfast, lunch and dinner. Check out their yummy menu and put it on your list!
On our way to Jerome, we drove by D'lish. We were stuffed from our morning meal but it looked super modern and I found out it was 100% vegan and organic, offering sandwiches, salads and other green treats. Definitely a place to go when I come back for a spa weekend!!
Now, Jerome was pretty neat. Not to far from lovely Sedona, Jerome is a living ghost town. Yep! An old mining community perched in the mountains overlooking the valley below, it began to die out after WWII as the demand for copper slowed. It is now a thriving artist community but has kept it's 1920s persona. Lots of old buildings and boarded up mine shafts, we spent a couple of hours walking around and strolled into the Grand Hotel where we decided to fill our tummies at The Asylum. Once the town's hospital, the hotel was renovated and is fully operational, complete with 30 rooms and guests from another dimension ; ) I had a really, really, really good veggie sandwich at the bar and I adored the ambiance. It had spectacular views and the staff was full of good Jerome fodder. Even in a ghost town, my belly was super satisfied.
I had a blissful day in these 2 Arizona gems and I hope you are able to visit some of these places someday soon!!
Related posts: