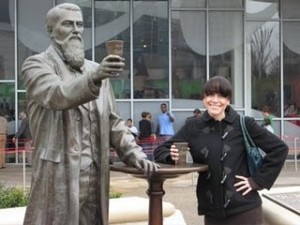 "Welcome to Atlanta where the players play!"- Jermaine Dupri
And play I did! Oh yes, and gorge my greedy little face I did too ; ) The hustle and bustle of the Atlanta metropolitan area is intoxicating. Already a big city, it's getting even bigger. Cool sky rises, modern shopping areas, the world of coca cola museum and aquarium as well as the nooks and areas tucked away for the hipster crowd, I had no problems getting into a groove here. So as one would imagine, there would be no problems finding some good eats in the capital of the south!
Fighting the city traffic, i made my way into the World Peace Cafe just in time for a quick dessert. We knew we had limited time in the city along with lots of obligations so I wanted to make sure I made it in. Run by the Rameshori Kadampa Buddhist Center in Sandy Springs, the cafe is mainly volunteer operated. But you'd never know it as the place runs like a dream and the food is even better. I was able to grab a minty chocolate cupcake before they all headed home but the menu looked great! Brekfast to dinner, fresh juice to dessert, they've got a veritable cornucopia of awesome veggie food. Feed your karma and your soul at World Peace Cafe!
We stayed in the heart of downtown at the Marriot Marquis. In it I had my lovely Starbucks waiting for me every morning as well as 2 restaurants and a bar. Having rolled in late, we were pretty hungry and weary so we popped into High Velocity. Located in the main lobby of the hotel, it's a chic sports bar with a fun menu. I was stoked to find a bunch of vegan and health friendly options at a sports bar so I had a taste of a few things ; ) I shared the lemon hummus with veggie sticks (almost no calories!!) and a black bean soy burger piled high with mushrooms and onions with my babe. It hit the spot just before we hit the sack.
The next day I had a hankering for soul food. What better place for such a meal than Atlanta and what better place in Atlanta than Soul Vegetarian. They've got locations all over the world and have a neat concept. A fully African-American run business that originated in Israel, this cafeteria style diner also boasts a fresh juice and home made ice cream bar as well as a holistic center that offers all kinds of services including colon hydrotherapy! I happen to like the 1 sto shop idea ; ) I chowed on a ginormous portion of soy mac and cheese, collard greens,salad, corn bread and I had to split the vegan gyro with Dan as my stomach wouldn't fit it all. Don't leave Atlanta without going to 1 of the 2 locations of Soul Vegetarian.
Another place with a few locations is The Vortex Bar and Grill. It's a hoot!! I was laughing my ass off just reading the menu and so will you (the website is just as kooky). It was cold out so I went with a steaming bowl of veggie chili and a side of sweet potato fries. There isn't a soul who couldn't find something on this menu as well as find this place quite the place for a fun night out!
Ok, so, I'm sure you can guess there is alot more to cover here in Atlanta so stay tuned next week for more!!
Related posts: