I need to go grocery shopping so last night I didn't have a lot of veggies to choose from in preparing dinner. I only had some white turnips and baby spinach left, so I made roasted turnips (recipe below), BBQ'd some marinated tofu, and made a spinach salad with apple, toasted almonds and poppyseed dressing.
Roasted Turnips Recipe
Ingredients
4 white turnips
10-12 cloves garlic (peeled and left whole)
2-3 Tbsp olive oil
1/2 tsp salt
1/4 tsp black pepper
1 tsp Italian seasoning
Directions
Preheat oven to 400°F.
Peel the turnip and cut into pieces about 1″ square. Place the cut turnip in a bowl with the garlic cloves. Toss with the olive oil, salt, pepper and Italian seasoning so that the turnip is well coated.
Put the turnip in a single layer on a baking sheet and bake for an 60-75 minutes or until they are tender and brown, turning occasionally to brown all sides.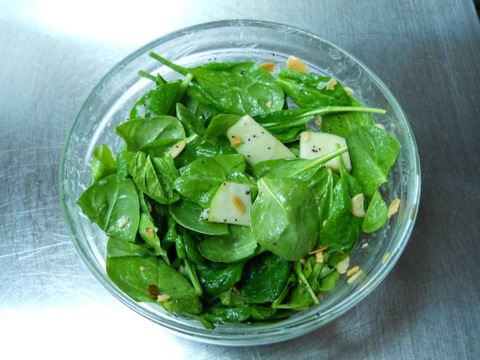 Related posts: