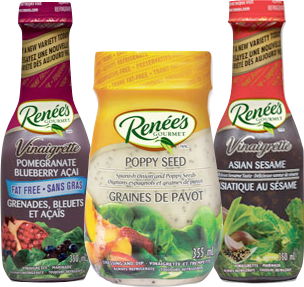 When you're vegan you tend to eat a fair amount of salad, and to me, the salad dressing is just as important as what goes into the salad. I generally prefer creamy dressings over vinaigrettes but creamy vegan dressings are hard to find, unless you make it yourself.
That said, my favorite salad dressing to buy is Renée's™ Gourmet Poppyseed Dressing. If you didn't read the ingredients and just looked at it, you'd probably assume it has dairy or eggs in it because it's so thick and creamy. On the contrary, this yummy dressing is actually vegan.
The poppyseed dressing is their only creamy vegan dressing, but they also have several vinaigrettes that are also vegan. What I really love about these dressings, is that #1 They're delicious and #2 They are all labelled to indicate things like dairy free, gluten free, egg free, cholesterol free, trans fat free etc.
According to their website the following dressings are vegan:
Asian Sesame Vinaigrette
Balsamic Vinaigrette
Sweet Onion Vinaigrette
Tangerine & Lime Vinaigrette
Pomegranate Blueberry Açai Fat Free Vinaigrette
Tuscan Italian Fat Free Vinaigrette
Poppy Seed Dressing
Poppy Seed 1⁄2 Fat Dressing
I went over the ingredients of several other dressings and they also looked vegan but didn't have the vegan check mark, which I can't figure out cause all the ingredients look to be okay.
Renée's™ Gourmet is a Canadian company, so at the present time their products are only available in Canada. If you are in Canada though and haven't yet tried any of their dressings, I highly recommend you do.
Related posts: