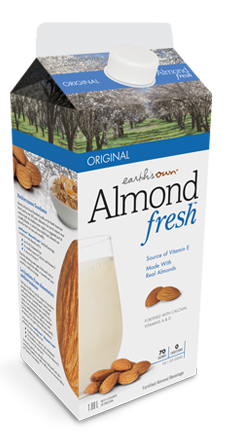 I am not the biggest fan of almond milk but I recently had the chance to try Earth's Own Almond Fresh and I have to say it was actually really good. I really like using it in my morning smoothie because it's fewer calories than soy milk and I really can't tell the difference between a smoothie made with soy or almond milk.
Almond Fresh comes in 4 flavors; chocolate, vanilla, original and unsweetened (which is only 30 calories per serving). Here are some other interesting facts about Almond Fresh:
Low in calories and one serving provides 45% of your daily recommended dose of vitamin D, 25% of Riboflavin, and 50% of B12
Dairy-free and does not contain lactose or casein
Fortified with calcium, vitamin A and vitamin D and contains naturally occurring vitamin E, riboflavin, vitamin B12, iron, phosphorus, magnesium and zinc
Almond Fresh products are wheat and gluten free and are certified Kosher
Owned by a Canadian company with a passion for health and wellbeing
So if you don't like soy milk or can't have soy, this is a great alternative. And from Sept. 5 – Oct. 30 Almond Fresh is running a contest called "the Real Nutty, Real Joy Sweepstakes", in which they will be giving people the chance
to win a trip for 2 to Napa, California. The trip includes:
Airfare for 2 to San Francisco
Rental Car
Accommodation for 4 nights
Spa day for 2
There's also a second chance to win with a photo contest they are running. People will be able to upload "joyus" photos of themselves for the chance to win 1 of 40 daily prize packs consisting of $50 worth of Almond Fresh product vouchers. PLUS the winning photos will be featured as the Almond Fresh profile pic of the day – on the Almond Fresh fan page.
Click Here for more details and to enter the contest. Please note that the contest is only open to Canadians outside of Quebec.
You can also visit their Facebook Page for access to more promos and deals.
Related posts: