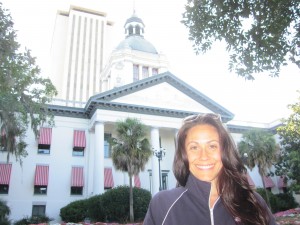 Tallahassee, the state capital of Florida, home to FSU and lots of good healthy options for a healthy voyager like me! I'm guessin' that the college crowd, just like in Gainesville, creates a demand for special diet friendly food and for that, I am thankful to today's university crew!
Tallahassee is full of history along with all the governmental goings on and college events. There are a number of state capital guided tours available so in between meals, make it a point to check out this capital/college town!  If you're checking out the universities, moving to town to work for the US government or just taking a tour of Florida, Tallahassee dishes up some yummy food!
My first stop was the slick and chic Hotel Duvall in downtown. A beautiful boutique hotel, the Duvall boasts 3 places to dine. My favorite was the Level 8 Lounge as it's rooftop locale overlooks the entire city. I took in the scenery as well as an order of olive hummus and flatbread, yum! For breakfast I popped down to the Le Roc Cafe where I had tasty rolled oats with fresh fruit and potatoes. Since I was out and about for the remainder of my stay, I didn't have time to check out Shula's 347. However, despite being a fine dining steakhouse, the chef did mention that they were absolutely up for accommodating all special diets!
One thing I love is hunting down vegan pizzas when on the road.  I have my mental list of the best in the country so I was excited when I happened upon Decent Pizza.  I had 2 other travel companions so I didn't hold back in ordering a loaded vegan pizza topped with vegan pepperoni, mushrooms and basically, the veggie works. The pizzas are huge, the ambiance young, college hipster and for sure, way better then just decent pizza ; )
If you haven't noticed, I also love to find bakeries that offer vegan and special diet options. Since I'm so good and healthy at home, steering clear of processed food and sweets, I do cut myself some slack while on the road. besides, I HAVE to do it in order to let folks know what's out there right?  Well, to my delight, Tallahassee was home to Lucy and Leo's Cupcakery. Offering a vegan choice on Wednesdays, Gluten Free on Thursdays and sugar free on Sundays, they've got their customers covered. I was lucky ans snatched up the last Red Velvet mini cupcake and it hit the spot with none of the guilt!
If you're craving Italian food, Bella Bella has a plethora of veggie options. Start with their killer roasted red pepper hummus then move on to their Tusacn salad. And if you still have room, order up their fresh, home made, Capellini Marinara. It's super cute, super delish and super affordable!
That's a wrap on Florida's capital city but I'll be sure to let you know about more healthy hot spots on my next trip!
Related posts: