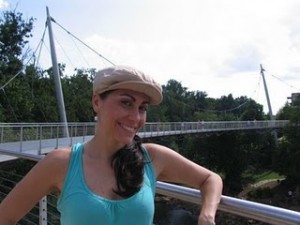 Just a short drive from Asheville & Charlotte, NC, as well as Atlanta, GA, you will find Greenville, South Carolina. I really enjoyed taking a guided tour of this quaint city as it had all the "accoutrement" of a large city without the overwhelming crowds, etc. The downtown is wonderfully charming too. Complete with a river and waterfall right smack in the center, a neat suspension bridge over the whole park ties the whole area together beautifully. Along with the pretty park, you will find some great eats in downtown Greenville, as well as in the burbs ; ) Be sure to take a sightseeing tour or hang with a local to find out all the neat and picturesque spots!
One great spot in downtown, is Cantinflas. A Mexican restaurant with an extensive vegetarian menu! I was stoked that my dinner guests where all able to find something they enjoyed while I munched on fresh made guac (vegans have to ask for it as the regular guac appetizer contains sour cream) and the Mexican chipotle vegan meatballs with rice, beans and plantains, yummmm. I really loved that there was something on their menu for everyone. It was refreshing to be able to order a "meat" with my mexi-meal that was tasty and nutritious! Visist Cantinflas Mexican Restaurant at 10 S Main St, Greenville, SC 29601-2709, (864) 250-1300. Very friendly staff, good margaritas and super accommodating too!
Heading out of downtown for a taste of the east, I lunched at Saffron. Some of the best Indian I'd ever had, my lunching partners who don't normally eat Indian food, agreed. Everyone was ecstatic with the smorgasbord of food that we feasted on, tastier and tastier with every new dish. Family owned, Saffron offers up a great lunch buffet as well as a full vegetarian menu. No matter how spicy you like your chana masala, what your dietary restrictions are, or if you are an Indian food novice, Saffron is the perfect place for a great meal from Indian food nubie to connoisseur ; ) Great food, wonderful service and super helpful to boot ; )
Another great find outside of downtown is the Pita House. Another awesomely authentic, family owned eatery and market, The Pita House is the place to go for Middle Eastern in Greenville. They bake their own pita bread fresh every morning, make all of their pastries, hummus and other goodies in house. A band of brothers keeping their family food and traditions alive and well in the American south, its a must to shop as well as dine at the Pita House 495 S Pleasantburg Dr, Greenville, SC 29607, (864) 271-9895.
Heading back downtown, Lemongrass Thai is a fantastic place for dinner. Yet again, Greenville surprises with an establishment that catered quite nicely to the veggies. A full menu, the veggie options were many and I indulged ; ) Starting with the fresh basil rolls and ending with a generous helping of the vegetarian massaman (curry and coconut milk action), I was happily stuffed. Soothing atmosphere and a delicious menu, Lemongrass Thai is definitely on my Greenville hot list!
For some good ol', casual Italian, pop over to Trio Brick Oven Cafe. The pizzas, salads, pastas and sandwiches are all tasty and easily customizable per your diet. I veganized a sandwich and salad and didn't sacrifice a bit of taste. I was even able to enjoy some dessert as they had a killer sorbet to finish off my meal. Multo Bene!
Greenville was very pretty, very relaxing and very tasty. I would be more then happy to come back soon and chow some more ; )
Related posts: