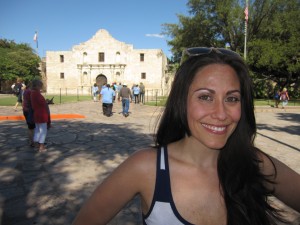 Deep in the heart of Texas, you'll find San Antonio. Home to the Alamo, Tex Mex and the Riverwalk. With tons of family friendly things to do and see San Antone is a beautiful city full of history as well as some pretty hip stuff. I had the chance to spend 5 fantastic days there, immersing myself in San Antonian culture, having been a contestant in the 1st annual Race to the Alamo! It was an experience I'll never forget as my husband and I teamed up to form Team Healthy Voyager, taking the gold 2 out of the 3 race days!
Our challenges took us all over town and we loved every minute of it. Starting with a VIP river barge cruise we then race in new Bike World public bikes to the Pearl. We then faced off is a salsa cook off at the Culinary Institute of America and ended our first day at Sea World. On day 2 we explored the San Antonio Zoo, the Shops at La Cantera and scavenger hunted around the Institute of Texan Culture. The final and most exciting day of all, we began at the San Fernando cathedral. Next we shot videos around the San Jose Mission, trimmed Boanzai trees at La Villita and then raced around the Buckhorn Museum on a fun fact hunt. The last and most adrenaline pumped challenge took us to the top of the Tower of Americas where we found clues that took us to the Alamo where each team had to sustain a conga line with the largest number of people for 15 minutes.
Despite the 105 degree weather, we had a blast. The folks of San Antonio couldn't have been nicer and we saw the city in ways that we may not have had it not been for the grand adventure we were invited on! And of course, there was a lot of eating! No matter what you may think about TexMex or BBQ, I found lots of delicious healthy options so here we go!
After the first race night, we headed out to Alamo Heights to dine at Adelante's Mexican Restaurant. Hands down one of the best decorated eateries that I've ever been to, Adelante's boasts healthy Mexican cuisine. For over 30 years, this kitchy and colorful locale has been serving healthier Mexican dishes with pride. The menu is large and the options for vegan, veggie, gluten free and low fat are tremendous. Everything is light and fresh (not common words that come to mind when describing Mexican food). I loved my sweet potato tamale, my tofu and black bean enchilada, guacamole salad an most of all, my vegan crispy taco. I'd never seen a puffed up taco shell and I have to say, it's pretty darn good! Dine with them at 21 Brees Blvd, San Antonio, TX 78209-4001, (210) 822-7681.
If you're looking for a good time, need to wash your car or clothes and/or can't find a babysitter on a Friday night, then The Cove is your answer! This car wash, laundromat, bar, restaurant, playground is one of the coolest places I've ever been to. This concept is all inclusive weather you're single or a family, there is something for everyone. Live music and a fun bar, picnic tables outside near the playground and basketball court and a place to take car of your car and clothes business, who could ask for anything more? Well, the menu doesn't disappoint and that's a fact! I got a great gluten free beer along with a delicious and flavorful vegan bacon cheeseburger. Hubby got the vegan BLT and we split a vegan chocolate chip cookie afterward. The vibe is way cool and the special diet options rule, The Cove is a must visit when in San Antonio!
Mmmm, breakfast, who can deny that going out for a morning meal isn't awesome? Well, Twin Sister's Bakery and Cafe has you covered on that awesome morning meal. They've got an extensive lunch and dinner menu too that's got plenty for health minded folks but since I popped in for brunch, I'll tell you all about the deliciousness they served me. Like the build your own breakfast tacos! Yum!! I wanted 10 but I opted for sweet potato and spinach as well as black bean with tofu chorizo and avocado. I want to have that for breakfast every day! And their tofu ranchero with mashed black beans was so full of flavor that I wanted to eat that for every meal too! Vegan sticky buns, oatmeal and all sorts yummy treats, hit up Twin Sister's in Alamo Heights as well as their downtown location any time of day!
When on the road, hunting down vegan pizza is a fun game I like to play. I keep a mental note of the best vegan pizzas I've ever had and I'm delighted to report that Fralo's Art of Pizza makes my top 5 of all time! The crust is fantastic, the veggie topping options are killer and yeah, they've got vegan cheese!. A vegan portobello bake, a beautiful salad and a pizza pie but me many clouds above the 9th one ; ) Fralo's not only has great food but the ambiance is terrific too! With tons of outdoor seating and a stage for live entertainment, who wouldn't be there every weekend night for delicious Italian food and fun? For gluten free customers, they've got you covered and they are always perfecting their artistic pizzas. I can't wait to go back to Fralo's some day soon!
At the risk of making my San Antonio coverage a novel, I'll keep you guessing about the other places I dined! I'll be back with more San Antonio next week!!
Related posts: