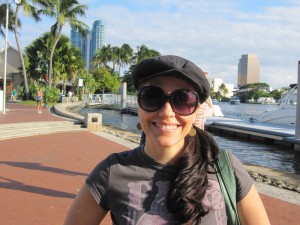 I'm super delighted to be able to report back on even more Miami deliciousness! While there are lots of things to do in Miami it is an absolute must to save time to dine on the local fare. It's super cool at how many places have popped up over the last few years that are not only accommodating to special diets but are also incredibly delicious. So whether you are looking to partake in some Miami sightseeing toursor just passin' through, make it a point to check out the rest of the fave spots that I was lucky enough to get my grub on at!
There's nothing like a romantic Italian meal but an organic Italian meal takes the cake! EscoPazzo is THE premiere organic Italian locale in Miami to get healthy, delicious food. And what's even cooler is that they have vegan and raw vegan menu items!!! Yum!! No matter who you may be struttin' down South beach with, you can all enjoy a world class meal at Escopazzo. My personal favorites are the tomato and avocado tartar with pickled watermelon and micro mustard greens as well the vegetable lasagna with cashew cheese. OMG!
I had the good fortune of being able to do my first book signing of my cookbook, The Healthy Voyager's Global Kitchen, at Books & Books on Lincoln Road. Just before the signing, I dined with the chef at the Cafe at Books and Books. Chef Bernie is not only a hoot, and a fellow healthy Latino, he is a gifted chef as well. the vegan items at the cafe are fantastic! Full of the flavors of Miami, and my childhood, the veggie dishes are pure bliss. Using lots of grains, legumes and veggies, it's pure, clean food with the tastes of Latin America. The carrot cake with mango sauce is a great twist, his quinoa and vegetable bowl is delish and there us even a mock chicken curry sandwich on the menu. Yumm!! Eat first, shop second!! Books and Books is a great place to spend an afternoon ; )
If you're looking for a kick ass bar with healthy vegan food, The Lost and Found Saloon is the place for you. With it's fun western theme, you might be surprised to find vegan friendly dishes there, let alone healthy ones. Not your usual bar food, Lost and Found does it up right. Their signature salad chock full of fresh greens, sun dried tomatoes, spinach, avocado, eggplant portobello mushrooms and topped with pepita encrusted tofu is enough to show you that this ain't your traditional bar menu. And the list goes on! Chipotle black bean burgers, seasonal veggie plates, chipotle tofu melt, pinon and pepita encrusted tofu over saffron rice…Insanity! So much fun, so much yum, you gotta bring all your friends (veg or not) to get lost and found asap!
Fast food is gross so Evos has come to the rescue. Boasting their fresh real fruit smoothies, air baked fries and healthier options for traditional burgers, it's much easier for folks to make the switch. with plenty of vegetarian and vegan options, you too can enjoy an American classic meal of burgers, fries and a shake without the fat and guilt. Eco-friendly and cool, even their flavored ketchup rock! I fell in love with my thai vegan wrap and air fries dunked in garlic ketchup, mmmmm! Take that McD's!
Just north of Miami and south of Ft. Lauderdale, you'll find Hollywood. Home to Sara's Kosher Vegetarian and L'Chaim Chinese restaurants. Owned and operated by a lovely couple, both restaurants are completely kosher and offer great veggie food. Sara's is usually my first stop when i am home visiting as I crave their vegan Cuban sandwich all year long. at Sara's, they've got it all from pizza, sandwiches, soup, salads and full entrees, all easily (and happily) veganizable. next door at L'Chaim Chinese, you can get vegan avocado spring rolls, veggie lettuce cups and basically anything on the menu made with tofu. So no matter what you're in the mood for, Sara's and L'Chaim have your cravings covered!
So that's a wrap on Miami for now but it looks like the healthy spots are growing so I'll be back to fill you in soon! Happy healthy trails!
Related posts: