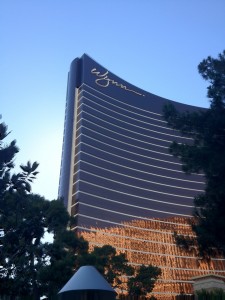 I recently returned from a trip to Las Vegas, and although I didn't stay at the Wynn or Encore, I have stayed there in the past and plan on staying there when I go back in August. That being said, while I was in Vegas, I spent a lot of time at the Wynn and Encore because I knew that no matter what restaurant I went to, there would be vegan options available. Some restaurants have a full vegan/vegetarian menu, while others have several vegan options on the menu.
I thought it was big news, but I guess there are still people that don't know that Steve Wynn went vegan, and when he did, he made sure that every single restaurant at both Wynn and Encore had vegan options available. It is truly a rare thing to walk into a 5 star steak house and have a vegan option available, let alone a full menu.
So, what did we eat, while we were there? At the Country Club, I had the Gardein Steak Salad with vegan blue cheese dressing, and my husband had the Wynn burger, which comes with a chocolate shake. For dinner at Stratta, we both had the Chick'n Parmigiano. At Society Cafe for breakfast we both had the Tofu Scramble Flat Bread which was like a breakfast pizza. And then for lunch we went back to Society and had the Double Down Burger. We also had breakfast at The Terrace Pointe Cafe, where we had the Baguette French Toast with a side of vegan sausage. The food and  service was excellent, and since we were there with friends (who aren't vegan), it was easy deciding were to eat because we could get vegan food and they could order off the regular menu.
Why other hotels don't do this, I don't know. There are so many vegan products available that would make it so easy for every restaurant to offer a vegan menu. There really is no excuse. Hotels and restaurants need to step up and take a cue from Steve Wynn.
I can't wait to go back and stay at the Encore so I can eat at all the restaurants I didn't get a chance to go to this time around 🙂
Related posts: