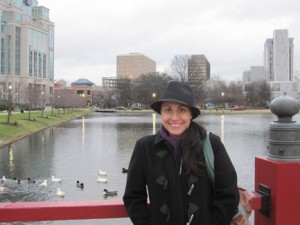 While Huntsville Alabama might not be a big tourist destination, it's the center of some pretty impressive stuff. It's the home of NASA's Marshall Space Flight Center and the US Army Aviation and Missile Command. Close to the Tennessee River and not far from the state, Huntsville is a nice community filled with a ton of aerospace brainiacs, rich history and some great healthy food options!
Located in the historic 5 points area, you'll find 1892 East Restaurant and Tavern. A hip and chic eatery that specializes in local, seasonal and organic food. And with that, you know it's an easy leap to awesome vegan and gluten free options! With Huntsville's widest selection of gourmet vegetarian options, coming in for brunch, lunch or dinner, they've got you covered. I devoured my black bean tamales and they were extra yummy as I mixed in my salad covered in delicious chimichurri. So. Freakin. Yum. Come in for drinks, share an appetizer or order a bunch of dishes. Either way, you won't leave disappointed!
If you're looking for the flavors of the Caribbean when deep in the south, Curry in a Hurry is the place for you. With food prepped with no butter, low oil and the owner herself being vegetarian, this fun joint is full of delicious and healthy choices. The sides are a plenty with curry veggies, brown rice, steamed veggies, plantains and all go well with the mock chicken curry or curry tofu and potato. Full of flavor with none of the guilt, get a taste of the islands in the heart of the south, be sure to get some curry in a hurry!
I really had a lot of fun at Happy Tummy. A cute restaurant specializing in a plethora of sandwiches, many of them veggie. My favorite was the Voltron, packed with BBQ Tofu, jerk tofu, lettuce, tomato and onion. It's spicy, it tasty and you might not want to kiss anyone directly afterward ; ) Happy is the perfect spot to pick up sandwiches for a road trip, picnic or just a great lunch time spot. It's not wonder their tagline is "gastronomic delights"!
Mediterranean is always an easy choice for veggies and other special diet travelers. Jamo's Cafe not only has the usual falafels and hummus but they even have veggie blt's, pitas and more. I always get really excited when restaurants have more then just the usual 1 or 2 veggie choices. Close to the University, it's a good choice for a quick meal.
So that's a wrap on Huntsville! If you happen to be driving through or going to space camp, now you know where to go. And knowing is half the battle, G.I. Jooooooooooooooooooe! ; )
Related posts: