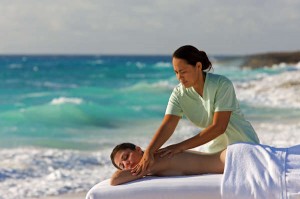 On Monday you're already dreaming of 5pm on Friday. On Friday you're hoping to get at least one day to sleep in and wishing you had a maid to do your laundry so you could just relax. Stress is all around us and more then ever what with the economy in its current state, family, career and lack of time to just sit for a bit to gather your thoughts.  All of this can lead to poor food choices due to lack of time, sleep deprivation, fatigue and even bad moods.  We all need a chance to recharge our batteries and what better way then taking a short, but ultra relaxing trip to a health spa?
More and more, spa resorts that focus on health and relaxation have been popping up.  But navigating the waters of what is actually healthy and what is just pure pampering can be tough. With the run of the mill spas, the products used in their treatments as well as the food being served is far from beneficial. So sure, you may get pampered and have time to relax, but ultimately, your body isn't getting the chance to heal as you continue to consume more toxins. It is important that on a spa retreat, you get the most out of being gone. Even a 3 day weekend can really give you the boost you need (and deserve) if you are at the right place that serves all of your health needs.
Now, yes, some of these can be very costly but if you time your trip right, search for deals, or go with friends, you may just get a great deal along with your heal!
Here are a few of my picks:
USA
Global
Find the time, save some cash and treat yourself to a holistic getaway.  Think of it as an investment in your health!

For more information, visit www.healthyvoyager.com
Contact Me
Related posts: