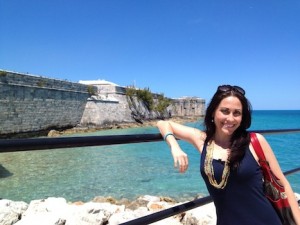 Surrounded by jewel like blue waters, this British island is not only picturesque but almost theme park like. With gorgeous, brightly colored, white roofed homes that line the hills and over look the water to the clean yet windy roads that cut through floral lined neighborhoods, it's incredible to see a country that is so pristine and pleasant. In fact, Bermuda's residents take so much pride in their land that they're hospitality mirrors the loveliness of the landscape.
I just came back from an absolutely wonderful trip to Bermuda. Thanks to the lovely folks of the Bermuda Visitor's Bureau, I was part of a select group of travel writers who was wined, dined and schmoozed in this beautiful island in the middle of the Atlantic.
A country steeped in history yet governed by it's fantastical geography, there is so much to do and see in Bermuda!
Let's start with where to stay! I had the pleasure of staying at the Southampton Fairmont Hotel. A global hotel chain that prides itself on being leaders in the green hotel marketplace, they offer everything from green meeting rooms and Audubon certified golf courses to rooftop gardens and  local, organic ingredients in their restaurants. They have ties to international environmental and wildlife organizations that coincide with each of their locations and the Southampton location in Bermuda is no different. Boasting 4 restaurants, inside as well as beach front, the Fairmont was incredibly accommodating to my special dietary needs. I had the luxury of staying on their Gold Floor that featured complimentary food and beverages all day. From breakfast and tea time to happy hour snacks and desserts, every day was a veritable smorgasbord! I devoured fun snacks like cucumber salads and mushroom purses as well as raw red pepper gaspacho and organic oatmeal. At the Waterlot Inn, located at the hotel's ferry harbor, enjoy local drinks and dishes like Mushroom Risotto or the watermelon granola crumble for dessert! Be sure to ask for their lifestyle cuisine plus menu that offers veg, vegan. gluten free, diabetic and even macrobiotic options!
Additionally, the Fairmont has a fitness center, world class spa and of course, great beach activities such as snorkeling, paddle boarding and more! Stay green, healthy and fit with Fairmont!
Located in the capital city of  Hamilton (no relation, by the way), Muse Bistro is an eatery that showcases international fare with a twist. I had the distinct honor of meeting the chef whose passion for his food, restaurant and the island was exuberant. He told me about traditional Bermudian food along with its influences. I had the spinach onion and garlic bruschetta and was told that many of the dishes, including pasta, could be easily veganized. Yay!
If you're visiting the Bermuda National Museum at the Royal Navy Dockyard, be sure to dine at Bonefish Bar and Grill overlooking the Great Sound. IWth traditional Bermuda faves such as rock fish and fish chowder, veggies can enjoy italian veggie paninis and more. Don't forget to have a Dark and Stormy with your meal!
Looking for a neat dining experience? Check out Henry VIII in Southampton for all sorts of cuisine. Offering vegetarian Indian dishes and sushi, to local seafood and beyond, there is something for everyone in your dining party. I had a fabulous seaweed salad, veggie rolls and a pretty killer Indian Vegetable Strudel that was packed with veggies in a mild curry and coconut sauce. Plus, on the weekends, they've got a dj, dancing and plenty of drinks!
The Swizzle Inn is an absolute must. Showcasing another Bermudian drink, the Rum Swizzle, it is a fun, kitschy and tasty locale. With lots of veggie options, I had the curry lentil veggie burger and was tempted to veganize the nachos. Super fun vibe along with swizzle and good bar and grill eats, be sure to put the Swizzle Inn on your list. Swizzle in and Swagger Out!
Join me again for more Bermuda bites coming up soon!
For more information, visit www.HealthyVoyager.com
Related posts: