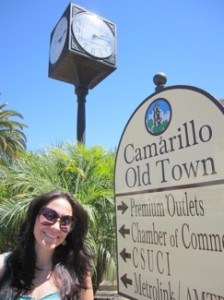 Camarillo is just outside of the Los Angeles County limits however, it feels like a world away. Slower paced, residential and cozy, this Ventura county town has quite a bit to offer anyone who follows a special diet. Sandwich between LA and Santa Barbara, here are a few spots worth stopping for!
I'll start with my favorite find first ; ) Technically, Pizza Salad is in Thousand Oaks, which is still in LA county but by the skin of its teeth! Just a few minutes south of the county line, this pizza joint is a hidden gem. Not only are they uber eco (eco to go packaging, utensils, Prius delivery cars, etc), they serve up organic food daily. 95% of their ingredients found on their menu are USDA certified organic which equals healthy customers & a healthy earth. In addition, they've got vegan pizza with your choice of regular vegan cheese or soy free as well as an amaranth based gluten free crust option. So regardless of your special diet, PizzaSalad has you and your carbon footprint more then covered!
Mary's Secret Garden was a place I wanted to try as I'd heard mixed reviews. Sure, the menu is a bit on the pricey side and yeah, they had run of the mill vegan options (burgers, sandwiches, salads, etc) but I will say that I was happy to find a fully vegan joint in Ventura. I opted not to go for the "staples" and went for their raw menu. The raw tostada tasty as was the raw Tropic Tease smoothie I had. But the best part was dessert. I'm a sucker for Tiramisu and Mary's was pretty damn good with a side of raw vegan ice cream. If you're on your way to LA or Santa Barbara and are in search of some vegan grub, pop on over to Mary's Secret Garden at 100 S. Fir Street, Ventura, CA 93001 – (805) 641-FOOD.
For breakfast or lunch, omni or herbi, ZZyzx Cafe is a good choice. Lots of fresh options for all sorts of eaters. More for vegetarians than vegans, I was still able to veganize my breakfast because sweet potato fries are perfect at any meal!
Lastly, I was delighted to see how many options I had at this east coast style deli. The Old New York Deli & Bakery offers freshly baked breads, bagels and other pastries (lots for non-veggies) in addition to wraps, salads, soups and sandwiches. I couldn't resist having a bagel sandwich piled high with hummus, avocado, cucumber, tomato and sprouts. And so cheap too! A lot of bang for your buck no matter your foodie style!
So that's a wrap on Camarillo! If you live in SoCal, it's a cute day trip or a nice pit stop on your way up or down the state. At least now you'll know before you go!
For more information, visit www.healthyvoyager.com
Related posts: