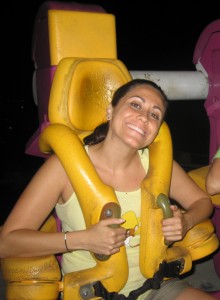 by Carolyn "The Healthy Voyager" Scott-Hamilton
There's nothing like hitting up theme park during the summer. Families, couples and groups of friends all make time to let out their inner child and splurge on a theme park day-cation or full on vacation. Of course, nothing rounds out a day at the park like overpriced churros, popcorn, soda and fries. Right? Well, not only does this kill your wallet, it kills your day. All that walking, standing and hangin' out in the park requires energy and stamina. Through in some kids, purses, bags of souvenirs and you're ready to keel over by mid day. Yes, have a treat but don't make the whole day a throw away as you will be paying for it hard later. Below are some tips on making your magical day everything it should be as well as specific eateries at some of the most popular parks across the country!:
Drink water!!! Skip the sodas as that will only dehydrate you and wear you out quicker then you can say Mickey Mouse.
Pack snacks like trail mix and healthy bars like vega, lara, purefit and goodonya's. They will curb your sweet tooth and munchies, save you money, and save you from the mountains of sodium, sugar and preservatives found in the low grade park food.
If you can swing it, pack your own lunches. Most parks have lockers available somewhere near the entrance of the park so bring a squishy type cooler and pack some delicious sandwiches, fruit and sides. You and your group will save a TON of money and will actually be full after picnicking with your own meal. Most park food is small, expensive and quite frankly, bland. It keeps you grazing all day and before you know it, you just blew next month's rent!
Wear sunscreen, sunglasses ad light clothing. The heat that emanates from the sidewalks and pavement can give you a heat stroke in no time. You may want to wear a swimsuit underneath your clothes for those water rides as well. This way, you won't be caught in the chilly breezes of the night as that is terribly uncomfortable.
Don't carry to much stuff. Ladies, a small, sling over purse or satchel with the essentials is fine. If you over stuff your bags, you can really do some damage to your shoulders and back leaving you motionless by the end of the day. If you need more stuff like a sweater for the evening, food, etc, leave it in a locker and get it later.
Here are some of the best places to dine at major parks across the country. Sometimes you just gotta treat yourself so make sure you make smart choices:
Disneyland – Blue Bayou in Frontier land offers a great veggie option. It is super expensive, tough to get into but is really a treat as you dine and overlook the pirates ride.The portobello mushroom cous couse dish was very tasty, easily veganizable, and came with a yummy salad. River Belle Terrace, across from Pirates, offers a veggie po boy. Bengal bbq, across from Indiana Jones, has some delish veggie skewers (good for a snack). The Tomorrowland Terrace has a veggie burger as does the Village Haus Restaurant by the Pinocchio ride. The Plaza Inn has kosher and veggie selections and you can veganize your pizzas and salads at the Redd Rocket Pizza Port. Grab some veggie gumbo at the Royal Street Veranda and quench your thirst with some tasty and fresh pineapple juice at the Tiki Juice Bar.
Disney's California Adventure – The Cocina Cucamonga Mexican Grill boasts great veggie salads, tacos and burritos. The Wine Country Trattoria is sit down Italian which is easy navigate from salads to pastas and pizzas. They are very accommodating to all special diets. The Taste Pilots' Grill has a veggie burger and Studio Catering Co has a grilled veggie sandwich. Stop at Schmoozie's for a refreshing smoothie, make sure you ask for non-dairy ingredients if your vegan. Pizzas and salads aer easily made to order per your requests at Pizza Oom Mow Mow. Find a lot of healthy choices at the Pacific Wharf Cafe and by some fresh fruit at the Fairfax Market.
Disney's Magic Kingdom – Cinderella's Royal Table, in the castle, has a hidden secret. If you make your reservation and call ahead, they will prepare a great vegan or special diet meal for you so make sure to plan ahead. The Tomorrowland Terrace Noodle Station has great veggie options as Asian is quite simple to healthify. The Plaza is a great stop as they specialize in accommodating special diets. Get a veggie panini at Tony's Town Square on Main Street. Veganize a wrap at Pecos Bill Tall Tale Inn & Cafe in Frontierland as well as some Mexican grub at El Pirata Y El Perico Restaurant. In Tomorrow and Fantasyland you have Cool Ship and Scuttles Landing have veggie burgers.
Epcot Center – Great options here as you get to pick your country of dining choice! Easily healthified and veganized are San Angel Inn in Mexico and Teppan Edo in Japan. Nine Dragons in China is very accommodating as is the Tangierine in Morroco as they serve Mediterranean cuisine. TuttoItalia in Italy and Tokyo Dining in Japan are fine dining and if you call ahead, they will be more then happy to accommodate your special dietary needs. The Electric Umbrella has salads and veggie wraps while the Garden Grill in Future World has veggie burgers and more.
Knot's Berry Farm – They have a TGIFriday's on site so pop in for a salad. If there isn't time for a sit down, grab a veggie burger from Viva La Coasters.
Universal Studios Hollywood – Get a veggie burger at the Hollywood Grill or have a full on meal at Mel's Diner. Here you can get a salad, veggie sandwich, veggie burger or wrap ; ) Modify a pizza or salad and have it your way at Louie's Pizza and Pasta. Eat at a number of different eateries before or after your day ta the park at Universal Citywalk.
Universal Studios Orlando – Starbuck's is there for coffee junkies to grab their pick me up soy latte. A Louie's Pizza and Mel's Diner can be found here just like the Hollywood location. Order up a salad or veggie burger at the Cafe La Bamba.
Islands of Adventure – The Confisco Grill has grilled veggie sandwiches and salads. You can find a variety of foods at the Comic Strip Cafe so getting what you need here won't be to bad. Get a custom sandwich at Blondie's or a veggie wrap at the Thunder Falls Terrace. Have a nice sit down meal at the Mythos restaurant or quench your thirst with some juice at Moose Juice Goose Juice.
Six Flags Magic Mountain – On a hot day, treat yourself with a sorbet at Coldstone Creamery. Have a veggie burger at Johnny Rocket's or veganize a taco salad or burrito at Los Cuates Mexican Grill or Eduardo's Grill.
Six Flags Over Georgia – Coldstone and Johnny Rockets just like Magic Mountain can accommodate healthy options. As will Los Banderas for some easily modifiable Mexican fare.
Six Flags Great America – Same chains as the above, add in salads at the Pink Flamingo Cafe or a veggie sandwich at Saltwater Sal's Seaside Bar.
Six Flags Great Adventure – Veganize salads and pasta at Mama Flore's. Same goes for Mexican at La Cocina and big sandwiches at The Carnegie Deli.
Six Flags Over Texas – Stick to the chains here as there are not to many options at this park.
Sea World San Diego – The Shipwreck Reef Cafe has a veggie burger and a veggie salad. the Calypso Bay Restaurant has a nice veggie wrap as does the Rocky Point and Mango Joe's beach cafe.
Sea World Orlando – Have a salad and bruschetta at Shark's Underwater grill. Indulge in some veggie chili or a garden burger at the Spice Mill. Or grab a veggie wrap at Mango Joe's or the Antarctic Market.
Sea World San Antonio – The least health friendly of the Sea World parks, veganize some side salads and snack on fruit ; (
Legoland, CA – The food court called the FunTown Market boasts a great selection of foods. I found some veggie stir fry and noticed veggie sandwiches, baked potatoes and veggie burgers for future reference.The Garden restaurant in Miniland is also very helpful to special diet diners.
Busch Gardens Tampa – The Crown Colony Restaurant is a nice sit down experience. They offer a nice veggie platter you can chow on while you overlook the Serengeti Plain. Find a veggie wrap at the Bengal Bistro or the Zagora cafe.
Let the kid in you go wild but let the adult in you keep your health on track this summer!!
For more information, visit www.healthyvoyager.com
Related posts: