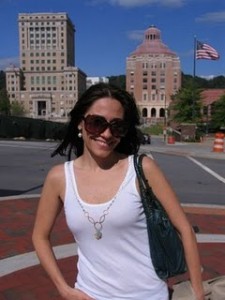 Asheville is one of those cities where a health nut need not worry. Most restaurants in this quaint mountain town have options or will easily accommodate almost any special diet with a smile ; ) It was a real treat to be in the hospitable south without worrying about loads of buttery and fried dishes, settling only for dry salads. Amongst the greenery and clean mountain air, you will also find some of the best and healthiest food around!
Brunch (or any meal for that matter) at Early Girl Eatery is a must! Make sure you arrive with plenty of time to hang as this place is always hoppin' and for great reason. The food is fresh and delicious no matter your dietary variety. Husband and wife team owned, Early Girl is the epitome of southern charm and comfort cooking. I had the best tofu scramble ever that included a pile of spinach, tomatoes and mushrooms along side some extra yummy baked tempeh. It was so nice to have my veggies with an appropriate amount of tofu as opposed to the other way around. LOVED it
Visit the site fr more info on them, their food and don't miss it even if you are just passing through town!
One thing I have yet to have found is a really great vegan gyro. That's because it has been hiding at Firestorm Cafe & Books! A great space for books, games, internet, socializing and yummalicious treats. A neat co-op business where the workers also own a portion of the biz, Firestorm boasts some great sandwiches, sweet treats for veggies and gluten-free'ers as well as almond milk for lattes which I wanted to do cartwheels over. My buddies and I all tried a different sandwich from the menu and we all left super happy. My gyro rocked and so did my double gooey vegan brownie!
Just outside of the beautiful Biltmore Estate, in Biltmore Village, you will find the fine dining hotspot, Corner Kitchen. Definitley a great spot before or after a tour of the estate for a taste of fine southern dining. I veganized their Portobello sandwich and it was divine. The staff takes a great deal of pride in their culinary selections and are delighted to create meals for special diets. Super cute and quite good!
Green Sage Coffeehouse & Cafe is the quintessential Asheville locale. Offering local and organic beers, wines, coffees and the same for the ingredients in their dishes, Green Sage IS super green and healthy. Start with a fresh squeezed veggie juice and go nuts on their sandwiches and salads. All veggie, vegan and gluten free items are clearly marked for zero confusion and 100% tasty goodness. I devoured the tempeh avocado sandwich with a tall glass of the Green Monster. So yum and so good for you too!!
If you're in the mood for some caribbean latin fare, head to Salsa's at 6 Patton Ave, Asheville, NC 28801 (828) 252-9805. Definitely start with the salsa appetizer where they bring out chips with a salsa sampler. The selections change depending on seasonal ingredients but you can healthify or veganize anything by simply asking – after all,it is Asheville ; ) I'm always up for latin food and Salsa's hit the spot!
And I'm not stopping here, Asheville has too much to offer my veggie appetite. See you later with some more!!
Related posts: