Last night I got home late, so I made tofu scramble with tomato and onion sauce because I needed to make something quick and easy for dinner.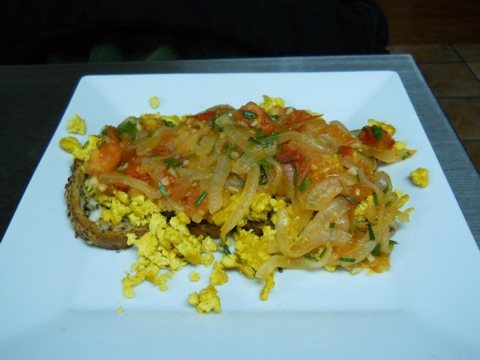 Ingredients
Tofu Scramble
1 pound medium firm tofu
1/4 teaspoon turmeric
1/4 cup nutritional yeast
1/2 teaspoon black salt
Tomato Onion Sauce
1 large onion, sliced
3-4 tomatoes, diced
2-3 cloves crushed garlic
Salt and pepper to taste
Directions
Place tofu, turmeric, nutritional yeast and black salt in a food processor and blend till smooth. (Every so often, wipe the sides down with a spatula to ensure everything gets incorporated)
In a large non-stick frying pan, heat 1 tablespoon of oil up over medium heat. Add the tofu mixture to the pan and cook, stirring occasionally, until all the liquid has evaporated and the tofu has firmed up and resembles scrambled eggs, about 15 minutes.
While the tofu is cooking make the gravy. Add 1 tablespoon of oil to another pan and heat over medium heat. Add the onions and cook till they start browning, about 8-10 minutes. Add the tomatoes, garlic and salt and pepper and continue cooking until the tomatoes start to soften and break down, about 5-7 minutes.
Place some scrambled tofu on toast and put tomato onion gravy on top of tofu. Serve immediately.
Related posts: